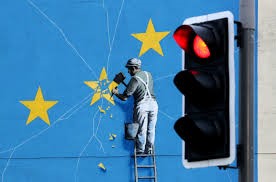 Since UK residents voted in favour of Brexit in June, 2016, the British pound has taken more hits than a lightweight boxer thrown into the ring for the first time. In the 3 years since, the word Brexit itself has taken on an almost dark magical quality: say it at the pub and you're liable to end up in an argument; mention it in the news, and the pound ends up taking a tumble. Prime Minister Boris Johnson finds himself in another pot of hot water every day, and protests have become a way of life throughout most of the UK's major cities. And when it comes to the financial markets, with such a bleak outlook, the pound has continued to see-saw up and down.*
Take the performance of the GBP/USD currency pair, one of the most commonly traded on the Vestle platform. In mid-June 2016 when the Brexit verdict was announced, the pound nosedived -11.6% (from 19th June to 3rd July), before taking an additional 8.6% between July and October. Over the next year it steadily climbed, hitting a 9.6% increase by September 2017. Thereafter, every time a Brexit milestone was hit, whether by the announcement of another extension or the threat of a no-deal Brexit, the price of the pound sank lower, cutting more ominous jagged lines into the graph.
What other effects is Brexit having?
In addition to the falling pound rate, analysts report the UK economy is continuing to slow down, which could affect a variety of factors from trade to interest rates. Then there's the ideological aspect of Brexit, which has split the country along several fault lines, with Remainers attacking Prime Minister Boris Johnson's recent move to prorogue the UK parliament as unconstitutional, and Brexiteers aggressively responding by advocating the completion of Brexit at whatever cost, even a no-deal.
Is there a way to take advantage of Brexit?
There will always be those who are resourceful enough to take advantage of such an otherwise bleak situation and maybe we all can learn a thing or two from their methods.
First, there's the falling pound rate. While all the uncertainty surrounding it may spell headaches for economists, this type of volatility could mean not just risks but also opportunities for informed forex traders, who essentially trade on price movement. As shown above, the past performance of GBP/USD has certainly made its mark. One analyst, Gaurav Kashyap, head of futures at EGM in Dubai, speculates the pound's real volatility will hit once the politicians return to parliament in September. However past performance should never be relied upon as advice of any kind, or indicative of future performance. That's where good, old-fashioned research comes in, taking the time to monitor the performance of GBP/USD or whatever instrument you choose to trade, and using the lineup of sophisticated market signals, trading tools and educational materials that come standard with the Vestle CFD trading platform to help make sense of them.
Another potential way to take advantage of Brexit is through the prospect of falling property prices. According to The National, property prices in London fell 4.4% as of May, 2019, the largest drop since August 2009. One London-based mortgage broker even added that with low variable rates and loan-to-values up 75%, in light of the weakening pound this may be one of the most viable times to take advantage of the UK property investment market.**
If the house you've always dreamed of shall be set in the UK however, you may want to wait until after the 31st October, as by then we'll most likely know if a deal has been reached. If it hasn't, and the UK finds itself in unprecedented no-deal Brexit territory, house prices are estimated to further crash by as much as a fifth, with the worst hit located in London and Northern Ireland. Accountancy firm KPMG speculates house prices to fall by between 5.4% and 7.5% in the event of a no-deal Brexit, triggering a nationwide decline of 6% in 2020.
If you've been a prospective property buyer who's been put off by the high prices, this could be your time to strike, but be warned: KPMG also reported even if a deal is made between PM Boris Johnson and the EU, house prices could still rise at a rate of about 1.3% in the following year.
The bottom line
There's no hard and fast rule to cashing in on Brexit, and the fact that we've mentioned the phrase "no deal" more than once should be enough to correctly express the amount of risk inherent to the current Brexit situation. But should you stare uncertainty in the face and attempt to take advantage of the opportunities you may find, do it with knowledge. At Vestle, you'll find the GBP/USD currency pair, as well hundreds of other tradable CFD instruments, with a variety of tools, market signals and economic calendars to help you stay aware of how such tumultuous events as Brexit are playing out on the financial markets.
Sources:
"* https://www.bloomberg.com/news/articles/2019-09-03/what-to-expect-from-the-brexit-showdown-in-parliament-quicktake?srnd=premium-europe
** https://www.thenational.ae/business/money/with-the-pound-and-uk-property-prices-falling-is-now-the-perfect-time-to-buy-1.890093
*** https://www.theguardian.com/money/2019/sep/02/house-prices-could-nosedive-after-no-deal-brexit-says-kpmg"
The materials contained on this document have been created in cooperation with Vestle and should not in any way be construed, either explicitly or implicitly, directly or indirectly, as investment advice, recommendation or suggestion of an investment strategy with respect to a financial instrument, in any manner whatsoever. CFDs are complex instruments and come with a high risk of losing money rapidly due to leverage. 83.7% of retail investor accounts lose money when trading CFDs with this provider. You should consider whether you understand how CFDs work and whether you can afford to take the high risk of losing your money. Any indication of past performance or simulated past performance included in this document is not a reliable indicator of future results. Full disclaimer: https://www.vestle.com/legal/analysis-disclaimer.html