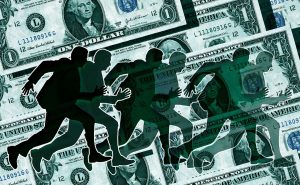 The banking landscape in Australia is dominated by four towering institutions. This dominance continues in the stock exchange, where these four companies make up almost %50 percent of the market value. This is mind-boggling to think about, and for a while, it seemed that these banks were too big to fail.
This false sense of security and "safe" image has helped lodge these four banks into the Australian psyche, but recently something has changed. After scandal upon scandal, criminal charges and a royal commission into some less than savory practices, Australians are starting to see ugly cracks appearing in the usually spotless facades. So, it's 2019, should the big four banks be shunned? What are the alternatives?
Too big to fail.
Banking with the large banks has its advantages, widespread ATM coverage, and sophisticated online banking services, just to name a few. As the four big banks have grown, their range of financial services has grown too. Sure, you can still open a savings account and withdraw funds from an ATM, but now these four banks have transitioned into offering a huge array of products like mortgages and car loans.
What does this mean for you? When the focus is taken away from everyday banking, customer service suffers. Make no mistake; you do business with a large bank on their terms, not yours. The big four claim to live "in your world" and happily wear a false image of value. The simple fact is this: these banks represent no better value than a small bank.
The alternatives.
While the big four banks and their subsidiaries make up nearly %80 of financial services in Australia, it's still easy to find a better value bank with preferable moral fiber. If you can forgo widespread ATMs than there many small banks that are community-run and charge fewer fees than any of the big four.
Online savings accounts are a cheap and hassle-free way of banking without selling your soul to a big bank. Online-only bank accounts save you on fees and can even be used to make you some extra money. When choosing a savings account, keep an eye out for offers and introductory rates on high-interest online savings accounts 
Civic duty.
Whether or not you can find value in your current bank seems almost irrelevant in light of the many criminal charges leveled at the big four banks and its higher profile employees. A slither of the shadiness these banks posses was revealed by a royal commission launched in 2017. This royal commission was intended to expose irresponsible lending practices.
The final results of this commission are still coming in, but the take away is this: Each major bank admitted that they had  "engaged in actual or potential misconduct and conduct falling below community standards and expectations relating to home lending, credit cards, car loans, add-on insurance, processing or administration errors and unsolicited offers of credit"
If this isn't enough to give pause to banking with one of the big four banks, I don't know what will.
Banks have inserted themselves right in the middle of the wealth creation chain. The largest banks in Australia have for the longest time held a stronghold on the banking system, regularly posting record profits for their shareholders while engaging in criminal activity. With better value banking services on offer, you may want to consider avoiding the big four banks at all costs.