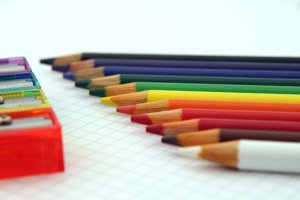 It's so easy to spend hundreds when shopping for your kids this back to school season. You get that daunting school supply list from your kid's school and it seems to be miles long. Not to mention you want to get your kid the best items out there but it can be so expensive. Then there is all the things your kid wants. All the latest trends and things their friends have. The cost of all these items can quickly make you go broke which means you have to tell your kid no or buy them school supplies that will be broken the next day.
Here are some tips on how not to go broke during this back to school shopping season.
End of Summer Sales
When you are buying your kids back to school clothes hit the end of summer sales. Most stores have sales up to 60% and 70% off if you shop the right deals. Stores like the Gap, Old Navy, JcPenney, and Macy's have great end of the summer sales with quality clothes for everyone. Shopping at places like these guarantees clothes that will last at an affordable price.
Some of the best end of summer sales aren't in store though, they are online. Shop around to find the best deal online and use coupon codes to save the most money possible. There are hundreds of deals online so you certain to save if you shop the right stores.
Shop at the supermarket for school supplies
Most parents I know go to office supplies stores like OfficeMax or Staples when shopping for their kids back to school supplies. For those basic supplies you should head to your local grocery store. More times than not these items are cheaper at places like Walmart or Target. Plus you can make the trip for the supplies while going to buy groceries. When buying your kid's school supplies remember to stick to the list handed out by your school.
Make Your Child's Lunch
School's charge outrageously to feed your child which is why you should consider making your child's lunch. You can shop the deals at your local grocery stores and save each time you make your child's lunch. Plus you can help your kid eat healthier when you pack their lunch.
Conclusion
Nobody is excited to see summer end and these extra costs just make the end of summer that much more dreadful. But keep these tips in mind when school rolls back around this year and save money on those expenses that seem to make you go broke every year. In fact keep these tips in mind the entire school season and save money all year.
Get Your FREE Ebook
DINKS (Dual Income No Kids) Finance focuses on personal finance for couples. While by no means financial experts, we strive to provide readers with new, innovative ways of thinking about finance. Sign up now to get our ebook, "Making Money Tips for Couples" FREE.