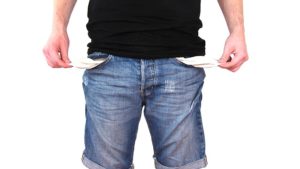 If you need some money in a hurry to meet an unexpected cost or to see your finances through to the next paycheck, it can quickly stress you out when you have to find a fast solution.
A good way of avoiding that scenario in the future would be to work out a way to put some money aside into an emergency fund so that you won't have that mad scramble for cash when an unforeseen bill blows a hole in your finances.
Here is a look at how much you should try to have in your emergency fund and ways to get that money together, including a better way of setting some more manageable savings goals and a few tricks to find some extra cash without adjusting your lifestyle.
How much do you need to set aside?
Having an emergency fund that gives you instant access to money when you need it without having to take out a loan or borrow against your credit card is a no-brainer strategy but the big question is how much do you need in reserve?
The general consensus amongst a number of financial planning professionals is that your emergency fund should ideally be a sum of money that is equivalent to somewhere between three and six months of essential expenses.
This sum of money would give you some financial breathing space if you find yourself unexpectedly unemployed or sick and your usual source of income dries up.
Estimate how much you need to cover your housing and utility costs plus money for food and other essential payments. You don't need to make provisions for discretionary spending like dining out and vacations, as you can cut those out of the equation if you don't have the money for these things.
Short-term planning
As a starting point, if you think that it is going to take you some time to build up an emergency fund that covers all of your monthly expenses for a period of time, build up a pot of money that at least covers you when you are hit with an unplanned expense like a repair bill.
There are always options to apply for a short-term loan through someone like Pretty Penny Loans if you needs some cash quickly, but any form of borrowing is always going to cost you added interest on top of the amount you borrow so it makes sense to try and become self-sufficient by having an emergency fund that you can use and replace as necessary.
Putting money away each month
You might think that it is all very well suggesting that you put money away each month into an emergency savings fund but it stands to reason that your monthly finances are likely to be tight if you find yourself falling short when an unexpected bill threatens to throw your plans into chaos.
One of the best tips to take on board is that it often helps to break down your savings goals into smaller and more manageable amounts.
Take a look at all of your monthly expenses and see if you can get a better deal on some of your regular bills like cable, utilities or insurances. By shopping around you might be able to cut down the cost, which will free up some spare cash toward your emergency fund without any sacrifice on your part.
Make sure you open separate savings accounts so that you create a distinction between your regular money and your emergency savings pot.
Set up automatic payments
Online banking makes it easy to create automated payments, which means you can get into the habit of putting even a small amount away each month into your emergency savings account, which will soon become part of your monthly outgoings without being that noticeable.
Another great trick is to create an order to sweep any remaining balance in your account at the end of the month into your savings account so that you start a new month with a level balance in your main account but with a savings pot that is building up nicely.
Simple ways to save
If you look at some of your small regular indulgences and spending habits you can often find a few easy ways to save some extra money toward your savings goal, without it having a major impact on your lifestyle.
The simple act of making your own latte to take with you on the commute to work rather than stopping at your usual coffee shop will soon add up to a surprisingly large amount of extra money left in your bank, that you can then transfer into your savings.
Having a movie night at home with all the treats like popcorn but without the expense of theater tickets, is another example of a simple adjustment that can quickly find you some extra cash.
Start your emergency fund now and you will soon feel a lot calmer when an unexpected bill threatens to upset your budget.
Scarlett Miller is an accountant who enjoys helping people with their money. She also likes to offer her insights on a number of financial websites.
Get Your FREE Ebook
DINKS (Dual Income No Kids) Finance focuses on personal finance for couples. While by no means financial experts, we strive to provide readers with new, innovative ways of thinking about finance. Sign up now to get our ebook, "Making Money Tips for Couples" FREE.