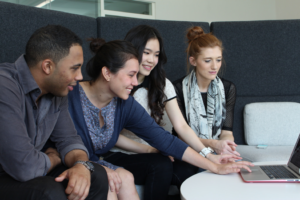 Starting a business on your own comes with a unique set of challenges but starting it jointly with your spouse can take these challenges to a whole new level. So, first things first, the question you really need to be asking yourself is whether it's a good idea to start a business with your spouse? Do you want to combine your personal and professional life with your partner?
When I was 28, I started a business with my fiancée (now wife), who was also one of my best friends. 6 years later our marriage and business are stronger than ever. The success of our business is itself an anecdote of our good relationship and just like any relationship we went through few bumps in our business venture but we got through it.
If you are planning to start a company with your other half or if you are considering of getting your spouse into the mix, make sure you go through the checklist to avoid any obstacles in your way to your goals.
Here are some of the golden rules that you need to follow:
Write down the terms of Your Business Relationship
In the absence of some ground rules, it will be easy for the dynamics of your relationship to spill over into your business partnership. So, write down at least some of the terms of your new partnership on paper. Even if you feel that you have a mutual awareness about each other's roles, write it down. There can be a lot of "he said/she said" when arguments occur, and having a document that was mutually agreed upon and signed can quickly clear up any emotional disputes.
The writing can include:
-Job titles
-Responsibilities
-Areas in which you both have total power to make a decision
-Areas in which you both need to agree on decisions
Even if you both love doing everything together as a couple, it's crucial that you separate your business roles so that each one of you can focus on what you are best at. Maybe your partner is more analytical and good at marketing strategy, while you excel at operations and managing people. Give each other freedom in the designated areas, and trust each other to do the job.
Division of labour in family life can be pretty casual but it would be dangerous to carry forward such an approach towards your business. It is important to be aware of what business responsibilities you will fulfil and what your partner will take care of. This will ensure that you are both decision makers with respect to your tasks and that productivity remains high.
Get a Workspace As Soon As Possible
You shouldn't rush when it comes to picking your workspace, but at the same time start you should start budgeting for an office space for your business. It is possible that you are thinking of basing your business operations from your home, but the goal should always be to move the whole operation into an office space. An added bonus is that working at a separate office space will help you maintain a more professional outlook.
Don't Bring Personal Issues Into The Workplace
Just like you shouldn't be bringing work problems home with you, don't bring home problems to work. This means if you're caught up in a tiff, your staff shouldn't see you arguing. Your employees should be able to trust you both as good leaders, and if you allow personal problems to spill over to the workplace, it can weaken your authority and ability to manage. Also, make sure your staff does not feel uncomfortable about the elephant in the room (your personal relationship) by engaging in inappropriate behaviour with your spouse at work.
Respect Each Other's Decisions
You have chosen your spouse as your partner for their expertise in a particular area of the business, so don't second-guess every decision they make. Just as your personal relationship is built on trust, so is your professional partnership. If your partner feels like you don't trust them to do the job, it can have consequences on both your personal as well as your professional relationship.
Separating Work and Personal Hours
Be clear about which hours of the day you want to discuss work related things with your partner. Why not schedule meeting times to discuss various business metrics? It is important to not let your business consume you and your relationship. It is advisable to set out a specific day of the week (for example, Friday) to conduct weekly reviews of your business or address specific work-related responsibilities for each other. This makes it easy for you to put your work hat on or relax and enjoy family time.
Have A Back-Up Finance In Place 
Money is the number one challenge for new businesses. When we first started out, we waited months to get our business cash flow in order and get paid. But we didn't stress, because we had taken cash flow finance ahead of time. There are several alternative business funds provided by reputed businesses fund providers and you should know when to seek help from them. Plan ahead how you are going to invest in your business, what sort of funding you would require and whom you should go to in case you need a helping hand.
Engage in Separate Hobbies
When you're starting out together, you'll be spending long hours working with each other to get the business off the ground. It sounds strange to say, but it's important to make it a point to indulge in separate activities. When we started our business, I got involved with the organisations in the local start-up community and my wife engaged herself in photography. This added a balance to our lives and gave us something new to talk about apart from work.
Listen To Each Other's Ideas
Keep in mind that regardless of your roles, you both are committed to your business. This means that every idea, be it yours or your partner's, is worth considering. Try to hear each other out completely before interrupting with your thoughts. Dismissing your partner's input outright can put both your relationship and business at risk.
Keep Communication Open to Avoid disputes
It's a great idea to engage in a weekly meeting with your partner to ensure that you're on the same page with what's happening in the business. If something comes up before the next meeting, make sure to communicate it. You don't want to be left in the dark about a major decision that has been taken, even if your input was not required for it. Communication is a matter of respect and critical for a stronger partnership.
Even if you love what you do, you need to get out of the office or house to stay connected in other areas. Book a babysitter and make a reservation for your favourite restaurant. Then talk about the kids, those upcoming holidays, your exercise class etc., important things not related to work
Lastly, it is important to remember that your relationship is unique, so appreciate it. The lifestyle of an entrepreneur is intense and being able to share it with your partner is not just rewarding, but also makes the whole ordeal seem manageable. The whole experiencing of sharing this journey with your partner can be very empowering.
Going through the journey together will make you appreciate success even more. Remember to celebrate your victories the same way as you comfort and support each other during the tough times. Whenever you attain important targets or eclipse your expected revenue targets, forget about work and raise a toast to your success.
Starting a business as a couple can be one of the most challenging and rewarding things you can do. There will be both tears and laughter or celebrations and frustrations. But if you both are compatible and determined to work towards a common goal, there will be nothing like sharing the payoffs of working together with your life partner.
Like DINKS? Subscribe!
Subscribe to get the latest DINKS Finance content by email.