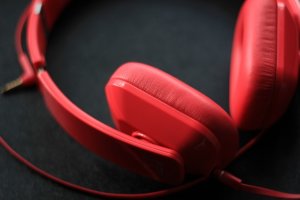 We know that there is an entire hype on the market regarding the quality of the headsets. There can be a lot of issues with the quality of a gaming headset, starting with the frustrating working/ non-working microphone to the headband that stays uncomfortably on your skull and so on. Indeed, they are truly important and can really ruin the experience of a nice game.
On the other hand, the market is full of smartly advertised, overly priced and poor quality headsets, so the real issue here is how to choose the best gaming headsets under $100. Let's have a look at some of the models!
HyperX Cloud II
The HyperX Cloud II model is produced by Kingston and it represents a high end product. IT is indeed one of the best gaming headsets you can find for less than $100. Among the most appreciated features you will find the sleek design, which, paired with the premium packaging, it offers an expensive feel. It has various other accessories, such as the airplane adapter, the mesh bag for games and the velour ear pieces, which are very convenient. Moreover, the cushy memory foam material used for the ear pads ensures a long time use in comfortable conditions.
PlayStation Gold
As the name says, PlayStation Gold is designed for the PS4, though you can use it for other devices as well. It has a beautiful blue package that comes with a pouch designed for traveling. For its price, you also get a wireless adapter, as well as 2 cables, one for recharging and one for audio. Moreover, the design can be customized according to your preferences if you remove the faceplates. Besides, it's a really comfortable headset and you even enjoy some additional padding under the headband for your own comfort.
Turtle Beach – Ear Force XO Seven Pro Premium
This Turtle Beach is a gaming headset designed specifically for the Xbox One. It comes together with a quite robust design and it includes a USB update cable, a removable Mic, an audio controller, plus a guide. It is rather comfortable to use because it is made of synthetic leather and memory foam cushioning on the headband. For this reason, you can use it for a long time without having any irritations or discomfort. The bass you get is literally deafening, between 20 kHz and 20 kHz.
Sentey GS-4731 Virtual 7.1 USB DAC
The headset looks somehow futuristic and it is highly optimized for playing video games. IT comes together with a CD software and a manual with instructions. It is made of soft protein ear cushion, while the padding is made of memory foam on the headband, so it is safe to use for hours in a row. What's interesting about this product is the fact that it has a built-in vibration feature. This reacts to the low bass sounds and other actions in the game, so you can feel the vibrations in your headset. However, this might give you a headache.
Corsair Gaming VOID
The Corsar Gaming Void is a particulary well produced headset and it is quite a cheap one if you think about all the advantages you're getting. It brings up RGB lighting, which lets you choose a color depending on your preference. The wireless range is quite impressive as well, going as far as 40ft. The battery life is 16 hours, which is yet another amazing feature. Needless to say, it has soft padding and memory with extra fiber, which ensure a safe long-term use.
SteelSeriesArctis 3
The SteelSeriesArctis 3 is in fact a multiplatform headset that works with all the existing gaming systems. Moreover, it is also compatible with most mobile devices. It has a sturdy look and feel and it is firm in hand, being made of durable plastic. The design however is a very light one, reason for which it is easier to use it on long periods of time. The headband is a Ski goggle one, which distributes the weight of the set evenly on the surface of your head. The ear cushions are Airwave ones, further adding to the comfort.
Razer Kraken 7.1 Chroma V2
The Razor Kraken is in fact a sturdy headset which is made of aluminum. It is indeed more expensive than the other models we mentioned in this article, but it does have some benefits. For example, the special Chroma lighting found on the device's sides is extremely customizable, and so you have lots of colors you can choose from. Naturally, it is not an issue if you want to use this device for long periods of time, since the headband is made of Bauxite aluminum, so it is very light, it doesn't stick too close to your head and it distributes the weight in an even manner.
LucidSound LS30
The wireless headset LucidSound LS30 works with all the video game consoles and mobile devices on the market today. It is created of aluminum and it feels durable and very robust. The look is really stylish, and you can't make any difference between this headset and a luxury one. The ear cups also contain some memory foam that helps your ears be more comfortable if you're the type that spends lots of hours gaming.
One small disadvantage might be the fact that it's not very light, or at least not in comparison with the other models mentioned in this list. However, it is still an option that is worth considering, especially for people who want to find a good headset for a cheap price.
Get Your FREE Ebook
DINKS (Dual Income No Kids) Finance focuses on personal finance for couples. While by no means financial experts, we strive to provide readers with new, innovative ways of thinking about finance. Sign up now to get our ebook, "Making Money Tips for Couples" FREE.