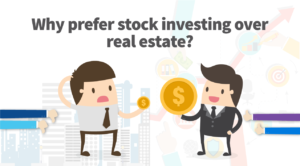 After several years of hard work, you have saved some money and you want it to be doubled or tripled by the time you retire. What are your options? Investment is certainly one of them, and when we talk about investment the two big choices that come to mind are real estate and stocks. There are endless debates and arguments on which one is the best and safest method in terms of consistency and income of course. There is no axiom that says investing in stock is better than real estate and vice versa. In reality, there are dozens of factors that make either one the best choice for you.
If you prefer to have more flexible and cost-effective investment then you should seriously consider stock investing. To evaluate the performance of US stocks, it is important to explore the history of stock market, so let's take a look at Standard & Poor's 500 Index (S&P 500) from years 1970-2016. The numbers show that throughout 46 years, stock market had a 10.31% average annual rate of return. Considering that this period includes the year 2008 when stock market crash occurred, 10.31% is a significantly high number. Enough with the numbers, let's discuss some benefits that stock market has.
The advantages of stock market
Owning a successful business is a guarantee of making good money and what is stock if not a share of a business. As a matter of fact buying stocks does not require a lot of money, you can buy a share in Apple for a little over $100. The point is that thanks to stock market, with a small amount of money, you can own a part of a business and get income without having to work or making an effort. Even better, through correct stock investments you will get checks each month with bigger and bigger numbers. That is because companies grow and their expansion means more cash dividend to stockholders.
It is no secret that real-estate is an illiquid investment because you cannot sell it right away without decreasing its value. Whereas stock market is a liquid investment, people buy and sell stocks every minute. Under beneficial circumstances you can sell your stocks in minutes and similarly buy new ones.
Moreover, if you want to have diverse investment portfolio with real-estate then be ready to spend thousands of dollars. Stock market, on the other hand, allows you to diversify your portfolio via buying shares of different industries and companies with relatively small amount of money.
The disadvantages of stock market
Before you make a final decision, it is important to recognize the possible obstacles you might face in the stock market. Stocks are strongly connected to economy and financial status of the company therefore, if they face challenges so does the stock market. An essential part of a rewarding stock market investment is the rational approach of the stockholder. So keep in mind that the success of your investment depends on your non-emotional decisions.
The point is
Stock market does have high volatility but despite the high risks, you will earn more money. Even with risks and crashes stock market has proven to be a source of generating and circulating money and it takes right decisions to use this source accurately. Investing in stock market might seem scarier than real-estate but don't let fear pull you back. You can subscribe to investment newsletters to learn about opportunities that will work just fine for you as well as get instructions that will guide you through the whole process of stock investing.
Get Your FREE Ebook
DINKS (Dual Income No Kids) Finance focuses on personal finance for couples. While by no means financial experts, we strive to provide readers with new, innovative ways of thinking about finance. Sign up now to get our ebook, "Making Money Tips for Couples" FREE.