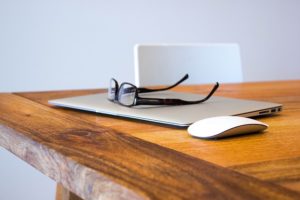 The paper free office is nothing like the truth. Pens, paper, invoices and receipts can still pile up, even if you do almost everything by email these days. And some of us just can't help our love of stationery, even when it's hidden somewhere at the back of the cupboard. Here are a few tips to help square your stuff away, but keep it easily accessible for the exact moment you need it.
Step 1: The purge
It may be difficult, but if you have to move several piles of stuff just to put your coffee cup down, you might need to bite the bullet and start throwing things out. Prioritize what is necessary and what you are hanging onto 'just in case'. Written notes can easily build up without control systems in place. The scrap of paper with that phone number that you don't recognize… do you really need it if you don't even remember who it's for? To do lists with one or two items left – combine them into a new list, or better yet, work out why it is you haven't completed them and if you are putting it off for no good reason – do it now! Finally, a proper electronic scheduling app, easily downloaded from the App store can do wonders for your productivity and help keep your desk space clear.
Step 2: The sort
Next, go through what's left and take them from amorphous stacks and out into useful, accessible storage. Find yourself a good source of cheap box files, and use them to keep loose papers, plastic wallets and materials together by using the built-in spring clip. Sort by project or client and label everything clearly.
Take any loose pens and round them up into colors. An old coffee mug will do until you find a better container. Shoe boxes are a fantastic way to sort small items. Insert self-made partitions or create a letter slot in the lid for small items. If you have a junk drawer, you could try using a kitchen utensil organizer to sort things out.
Keep everything vital at your fingertips. If you are forced to shift crates and boxes about to get at something you use more than once a week, it adds frustration to your day and cuts down on time that could be spent in productive work. Keep blank pads, sticky notes and spare pens close and ready for you any time you need to take a quick note or break out for a more detailed planning session.
Use twist ties to keep your tech cables tidy in a box or drawer. Add a small label to any that are not just the run of the mill USBs so they can be easily found.
Step 3: The poise
Don't forget to arrange your storage so it doesn't get underfoot or take up too much desk space. You don't want to work around your office materials, but make them work around you!
With these three simple steps your office can be clutter free!
Get Your FREE Ebook
DINKS (Dual Income No Kids) Finance focuses on personal finance for couples. While by no means financial experts, we strive to provide readers with new, innovative ways of thinking about finance. Sign up now to get our ebook, "Making Money Tips for Couples" FREE.