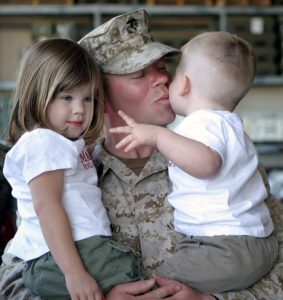 If someone in your family is a member of the armed services, thank you for your contribution. Military families are an important part of the American demographic, but it's not always easy for them to afford all the things they need. In the interest of helping families that depend on one military income to get by, we are pleased to present these priceless pointers on how best to manage personal finances.
Save money on housing costs
For most families, housing costs comprise a huge part of their monthly budget. In fact, the Bureau of Labor Statistics reports that the average American family spends more than $16,000 per year on housing expenses. Fortunately, military families enjoy plenty of options that can save them a pretty penny on housing and associated expenses.
Don't live bigger than you can comfortably afford. If you are a military family of four, don't rent a house big enough for eight. Live smaller, and you'll not only pay less on rent, you'll also shell out less every month on electricity, water and other utilities. If you own your home, invest in upgraded insulation to spare important dollars on heating and cooling costs every season of the year.
Remember how your parents told you to turn out the lights when you leave a room? It's actually excellent advice. There's no good reason to illuminate a space that you're not using, and doing so can take a big hit on a military family's budget.
Saving money in the kitchen
"What's for dinner?" may be the commonest questions asked in America today. The way that question is answered can have a significant impact on the budget of a military family. Go out for pizza every night of the week, and your family grocery budget can be blasted to bits well before the end of the month. Plan menus and shop for ingredients instead, and your food dollars will go a whole lot farther.
Make a weekly grocery shopping list and stick with it. Shop the outer aisles to find fresh produce, meats, dairy products and baked goods. Most of the inner aisles of a typical grocery store are jam packed with processed and pre-packaged foods that cost so much more in the long run than ingredient items used to make meals from scratch.
Pay attention to per-unit costs to find the best deals on stuff you use every day. If you use a lot of a particular non-perishable item, buy it in bulk. This tip may not be wise for families who might go through an item in record time simply because they have a lot of it on hand. Bring your own bags and save the per-bag fee you'll be expected to pay at the checkout stand.
Shop seasonally and eat as many locally sourced meats and produce items as possible. You'll save money and support local families, too. Veterans United magazine recommends that military families take advantage of commissary coupons whenever and wherever they can. Scout social media sites online websites for commissary-friendly coupons that offer significant savings to military families.
If you are injured and can't work
If the breadwinner in a military member becomes hurt on the job, the unemployment benefits received may not be enough to pay for daily living expenses, let alone any sort of luxury or discretionary items. If your injuries are due to someone else's negligence, be that a business, a government agency or an individual, best to not leave it late to seek out legal assistance. For instance, if your injury is due to someone else's bad driving, don't leave anything to chance and employ a specialist car accident lawyer.
Save money on transportation costs
Maintain your vehicle and don't ever miss a scheduled service visit. Cars that operate well use less fuel and generally require fewer repairs in the long run. Maximize your mileage by running with the lightest load possible. Empty extraneous items from the trunk and arrange errands to coincide on the same day when you can.
Shop online for the best gas price in town and fill up at a place that offers a free car wash. Plan ahead to purchase gas well before your tank is empty. Gas stations with personalized rewards cards may offer even more savings for military families who need to go places.
Military families may find it challenging to make their expenses, but it's not impossible when they follow these easy, sensible budgeting rules.
Zoe Sims is an army wife and has been married to her childhood sweetheart for close to 25 years. She offers support to the younger wives in her community and is now offering her advice and wisdom online through her writing.
Get Your FREE Ebook
DINKS (Dual Income No Kids) Finance focuses on personal finance for couples. While by no means financial experts, we strive to provide readers with new, innovative ways of thinking about finance. Sign up now to get our ebook, "Making Money Tips for Couples" FREE.