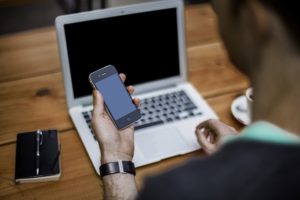 Building wealth is easier than ever in many ways, but it's become increasingly clear that a new skill set is required for financial literacy in today's market.  The internet, availability of apps and emergence of a new generation of investors have all played into the massive shifts in the market that have invited some to newfound riches and left other feeling shut out. If you're caught in the middle, finding your place can be a challenge, but there are a few principles that can guide your efforts in the landscape of digital age  investing and all of its trappings. With these tips and tricks, you can take control of your portfolio and make meaningful strides towards your goals. A changing market shouldn't harm your objectives or force you to compromise. If you approach it with the right attitude and strategies, you can thrive despite shifts in the market's conditions.
Apps Are the Way of the Future
You might not assume that millennials are the driving force behind investment trends, but the emergence of apps and personalized programs allow younger investors to test the waters and become familiar with the market. This means that apps are likely to become one of the primary means of investing in years to come, and if you aren't already on board, now is the time to get started. Apps have changed the platform you invest on, but you can take you strategies and apply them to a smaller screen for the same results you would get on another platform.
Investing Has Become a Personal Matter
Millennials have driven yet another shift in investing: more providers have moved towards a personalized approach and created platforms that tailor to your unique needs. This is both a blessing and a source of frustration for people who are used to a more general means of navigating the market. Providers can now access user data and other information through apps and other methods in order to create a personalized experience. Rather than shying away from this, discover how it can give you a better experience and open up opportunities you may not have otherwise seen.
Take Advantage of Accessible ConnectionsNetworking the old-fashioned way seems downright antiquated with the inception of apps now available to do the job for you. Crowdfunding and social networking have given investors a whole new world of innovative opportunities to delve into and explore. Whether you lean towards these or more traditional means of investing, the social aspect brought into play can offer meaningful chances for building connections and forging partnerships that benefit your portfolio and opportunities. Connecting with like-minded investors is easier than ever, and it's wise to take advantage of the chance to expand your network.
Hedge Bet With Help From Greater Options
With the advent of greater platforms to invest through and hedge bets on, you can enjoy better returns and less risk than you might have years ago with a limited number of providers to choose from. If one investment does not pan out, there's no penalty for jumping on to another and diversifying your portfolio in the process. Advice from experts on social media, such as that found on Patrick Dwyer's Twitter, can offer valuable guidance on leveraging your bets wisely to maximize returns and improve your portfolio. If you are unsure of your trajectory, experts are a good resource.
Leverage Tech to Improve Your Decisions
All of the calculating and guesswork that might have previously been required of investors is now, largely, completed by complex algorithms that live inside the platform you are using to invest. Take advantage of features that are built into your provider, such as forecasting tools and personalized suggestions. These tech advancements are some of the best benefits modern investing can offer clients. Patrick Dwyer's Twitter has a number of basic tips for making the most of your portfolio and leveraging tech to do so. It may be trial and error at first, but it's worth learning the ropes.
Adopt and Maintain an Attitude of Flexibility
The greatest asset you can have in this modern age of investment is the right attitude. No new platform, networking tool or advanced algorithm can endow you with the advantages a simple outlook of capability and flexibility will bring to the game. Flexibility is particularly important, and it is key to surviving the constant wave of changes that come to the industry every few years. No matter where your portfolio stands, you can continue improving it if you prepare for changes and adapt to their demands. This is the greatest asset you can have in the pursuit of investments. With all of these changes, it's a lot to adapt to, but investors of all skill levels can take advantage of the resources available and build a portfolio that's sure to last and grow. Changes are a challenge, but they shouldn't knock you off your course.
Get Your FREE Ebook
DINKS (Dual Income No Kids) Finance focuses on personal finance for couples. While by no means financial experts, we strive to provide readers with new, innovative ways of thinking about finance. Sign up now to get our ebook, "Making Money Tips for Couples" FREE.