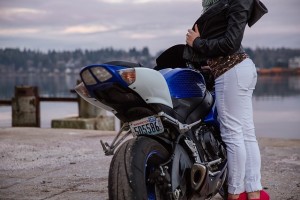 Of all vehicles used on public roads, motorcycles are the least stable. The fact that they don't offer structural protection to the riders makes them even more unsafe. According to a U.S. Department of Transportation report, the number of deaths resulting from motorcycle accidents were 26 times over that of car accidents. The government agency's reports for 2014 show that motorcycle accidents have increased over the years. Motorcycle accidents accounted for 13 percent of all deaths from motor vehicle accidents that year.
Safety precautions
A National Highway Traffic Safety Administration report shows that 80 percent of reported motorcycle accidents result in death or injuries. Clearly, measures ought to be taken to not only prevent accidents but also to reduce the occurrence of fatal injuries. The NHTSA advocates the wearing of protective gear to reduce serious injuries from accidents. According to the government agency, wearing a helmet can reduce your chances of suffering a fatal brain injury by up to 67 percent.
Throwing caution to the wind
Unfortunately, many riders ignore safety precautions especially when it comes to garments. They not only forgo wearing appropriate safety gear but also wear unsuitable and dangerous clothing. Some may do this to look cool while others simply don't care.
Be sure to avoid wearing the following if you don't want to end up another statistic:
Tennis shoes
This may come as a shock to some but tennis shoes are not appropriate for driving. Although they may be the most comfortable pair of shoes you own, they are not adequate for motorcycling. They do not offer the same protection that boots offer in case of an accident. Heavy duty boots provide ankle support and protection for the shins.
Tennis shoes also present a risk because of their laces. Laces can become undone and get caught in the bike's mechanism, therefore causing an accident.
Flip Flops
These are probably the worst choice when it comes to shoes for riding. They leave your whole foot exposed to the elements of the weather, not to mention the piping hot temperatures of the motorcycle parts. Your feet will also be exposed to the tarmac and other hard objects in the event of an accident, resulting in serious injuries.
Flip flops can also cause accidents when they fly off the feet. No matter what level of expertise you have riding motorcycles; these will be the most uncomfortable shoes you could choose to ride with.
T-shirts, tank tops and tube tops
There is a good reason to get a good quality jacket for riding: your health. Riders are exposed to wind, sun and exhaust. A comfortable jacket will keep you warm and protect your body from the harsh winds. You can wear a perforated jacket on those hot summer days.
Shorts and skirts
Those shorts and that skirt may look good on the beach but won't do a thing to protect your legs in an accident. Your legs will also be exposed to the hot exposed metal and pipes of the motorcycle engine. Those burns won't be so cute.
Novelty helmets
Even if your state doesn't impose the wearing of helmets, the right helmet can mean the difference between life and death in the event of an accident. There are many stylish helmets available for motorcyclists these days. Take your pick.
An all-black outfit
While it may look cool in the movies, it isn't safe to wear an all-black outfit on the road, especially when riding at night. Include some reflective material to ensure that you can be seen by other motorists.
The problem with not dressing appropriately while on a motorcycle is that insurance companies are not likely to cover you if you are involved in an accident and were not wearing safety gear at the time. When you enter a search for 'how much is motorcycle insurance,' be sure to check on what the insurance policy covers and what it doesn't.
Get Your FREE Ebook
DINKS (Dual Income No Kids) Finance focuses on personal finance for couples. While by no means financial experts, we strive to provide readers with new, innovative ways of thinking about finance. Sign up now to get our ebook, "Making Money Tips for Couples" FREE.