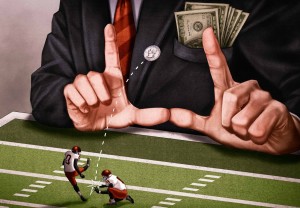 This is a question that will most likely do the rounds in your social sporting circle on a regular basis, stirring fury and outrage out of us, as we look at our own salary in comparison to some of the top athletes around the world and make us wonder, why do they get paid so much? What have they got that I haven't? What makes them so special?
Alex Rodriguez earns $29,000,000 a year, just for hitting a ball with a stick. Kobe Bryant takes home $25,000,000 per year for throwing a ball through a hoop. Ben Roethlisberger's new contract will see him make $24,000,000 a year, for the next five years, just for throwing a ball to his friends, in a sport used to fill the gap between commercial breaks.
That is a very simple and unfair way of putting it, but there will still be many of you reading this and agreeing with the premise. Why are these athletes getting paid such a high salary for something that could be described as "just a game"?
Sport is just like any other profession, where salaries are determined by ability, demand and experience. Another factor you have to take into account is endorsement and sponsorship.
Over the last 20 years, the money involved in sport has sky-rocketed due to increased popularity with advertising companies and television coverage. Sports companies and franchises have great marketability, which increases their profits and enables them to spend more money on talent. The more money that is put into the business, the more you will take out of it, it's a simple as that.
Take European Soccer as an example. When the Premier League was formed in the early 1990's, Sky TV bought the rights to televise the competition. With this new financial power, average salaries increased, teams had more transfer revenue to play with and in turn, more money to spend on players' salaries.
In 1994, Chris Sutton's $7.25m transfer to Blackburn Rovers was a British transfer record and he became one of the first players to earn around $750,000 a year. By 2004, the top players in the country were now taking home over $7m per year and Rio Ferdinand's transfer from Leeds to Manchester United had set a new transfer record at $42.2m. Fast forward to today, where we see the average salary for a Premier League player at $3.3m per year. That's not just the top clubs, that's an average for the entire league. Gareth Bale moved from Tottenham to Real Madrid, setting a new World Transfer Record at $112.6m. This seems incredible, but if you take a look at transfer statistics, you will see the European Leagues paying astronomical amounts of money to acquire players, so it is understandable that the highest earning players in the world of football are taking home $21m a year.
Other popular British sports like Rugby and Cricket can only dream of having this kind of money to play with; Sam Burgess was on a contract worth $725,000 per years. Joe Root is England's most active cricketer in all formats of the game, he earns just over $1m in a year as well as small appearance bonuses. This huge difference in salaries is caused by a simple business theory, supply and demand. There is more money coming into football than ever, it is by far the most popular sport in terms of viewing figures and advertising stats, leading to clubs having more money to spend on transfers and wages.
It's a very similar story in American Sports too; during the 2014/15 season, the NBA was the highest paying sport in the world, paying an average salary of $4.58m, Major League Baseball wasn't far behind on $4.17m. NHL also featured in the world's top five highest paid sports, with an average salary of $2.62 and the NFL two places further back on $2.11m. The MLS can't hope to compete with the financial power these four sports hold in America, so it's no surprise to see the average salary of a US Soccer player all the way down at just over $300,000.
Apply this theory to your job. If you had a global conglomerate sponsoring your company and you were being televised, with billions of people around the world clambering to see you do your job, don't you think you'd be earning a far bigger salary that you are doing now? There is no doubt about it. Just like any other profession, whether you are a chef, a banker, a teacher or a professional athlete, the better you are at your job and the more success you have, the more you are going to get paid. And the sectors that demand a rarer skill set will undoubtedly demand a higher salary.
To be a high level sportsman requires a level of talent that cannot solely be acquired through hard work and dedication. These people are born with it. Because of this, clubs are willing to give into stars wage demands, so they can benefit from not only their talents but the advertising deals that come with them to generate even more money.
Do you think the high salaries paid to top level athletes are justified? Or should we be enforcing more aggressive salary caps?
Get Your FREE Ebook
DINKS (Dual Income No Kids) Finance focuses on personal finance for couples. While by no means financial experts, we strive to provide readers with new, innovative ways of thinking about finance. Sign up now to get our ebook, "Making Money Tips for Couples" FREE.