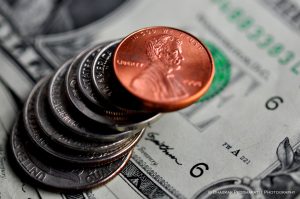 So, you don't have a burgeoning bank account. That doesn't mean you can't live very well. Learn to spend your hard-earned cash more wisely, and you can enjoy the luxuries of life without breaking your budget. Do it right, and you can cut frivolous costs without eliminating everything you like. Frugality isn't about lack of spending; it's about spending smarter.
Pay attention, not money
Start by keeping track of every cent you spend. Do this for a couple of weeks, and you might be surprised to see where your money actually goes. In addition, a penny-by-penny accounting will give you a chance to pare the proverbial fat from your budget, leaving more money to spend on things that you really want.
Spend time instead of money
If you're like most people, you shell out plenty of daily dollars for convenience. Stop doing that. Wake up twenty minutes earlier on workdays, and pack a homemade lunch. Hard-boil a dozen eggs on Sunday, and add them to lunch bags all week. If the weather cooperates, enjoy your midday break outdoors, and soak up a bit of free sunshine.
Brew your own coffee and fill a thermos. Add your own cream and sugar to the thermos, and you'll have coffee just the way you like it all morning. If you absolutely have to buy an afternoon cup at a coffee shop, bring your own mug, order a basic brew and ask for refills. MSN Money says that Starbucks will give you a dime discount when you bring your own coffee cup.
Pass up pricey processed food items and buy ingredients instead. Purchase a big bag of rice instead of packaged pilaf. Buy Parmesan cheese by the block and grate your own. Squeeze oranges in lieu of buying juice. Buy apples and cinnamon instead of applesauce. If you don't know how to cook, ask a friend or family member to teach you a few kitchen tricks. Check out cookbooks from your local library and visit websites such as CookThing to learn how to prepare your own meals from ingredients.
Take care of the things you have and save cleaning and repair costs down the road. Wear an apron when you cook, and protect your car seats with Shear Comfort covers.
Expand your entertainment possibilities
How much is your cable bill every month? No matter how much you spend on cable TV, it's wasted money. YouTube can stream video to most newer televisions. YouTube is free and chock full of movies, documentaries, concerts and cartoons. When you search, specify "full length" to find entire episodes of your favorite shows.
If you don't yet have a library card, get one. In fact, go ahead and get a library card for every member of your family. It won't cost a thing and will open a whole world of free entertainment. Most libraries lend movies for no charge whatsoever, and some even let members borrow musical instruments and tools. While you're at the library, borrow some how-to books and learn to make basic home and vehicle repairs. Trust us. It will pay off in the long run.
Get it for free
Seriously. Free. There are plenty of people giving stuff away, if you know where to look. Investopedia recommends checking Craigslist and FreeCycle to find fabulous freebies instead of paying for things you want.
Clip coupons and spend them at stores where they match the value to save even more on things you were going to buy anyway. Unless a doubled coupon entitles you to a free item, don't use a coupon to buy something unnecessary. Clip coupons from the Sunday paper while you're boiling eggs for workweek lunches, or visit Coupons.com and print out the ones you need.
These days, money is tight for most people. Follow these few easy-to-implement tips, and soon you'll be shopping smarter and spending a whole lot less while living as large as you like.
Lisa Anderson is a full-time Mom of 3 year old twin boys and an 8 year old daughter. With just the 1 salary coming in Lisa knows the importance of budgeting and being frugal. She shares her tips on lifestyle and personal finance blogs.
Get Your FREE Ebook
DINKS (Dual Income No Kids) Finance focuses on personal finance for couples. While by no means financial experts, we strive to provide readers with new, innovative ways of thinking about finance. Sign up now to get our ebook, "Making Money Tips for Couples" FREE.