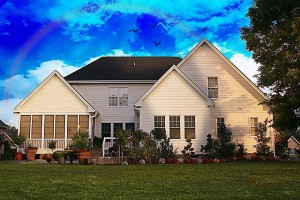 Everyone has some kind of an idea for what their dream home will be like, whether it's a fairy tale style castle or a traditional mansion. In reality very few of us will ever own such a luxurious house but will always be working towards making home improvements anyway.
If you're considering making some renovations to your home in the coming months or years then you will need to start figuring out how to fund such work. From redecorating the living room to installing a new bathroom, the price will change depending on what you're having done and there are various ways to fund it.
Savings
Paying outright is the best way to go about affording home renovations and if you're not in a rush to have work done immediately then saving up is ideal. Decide what you want doing and set a timescale for when it needs to be complete. Write down a budget of your weekly or monthly income and expenditure, and use this along with the timescale to see how much needs putting to one side for home renovations.
Low Interest Credit Cards
If you're only having a few small changes done then making the most of low and 0% interest credit cards can be a good idea. Those with a good credit rating can benefit from 0% interest from certain providers, though you will need to be able to pay it off within a particular timescale (usually shorter than from other lending providers).
Secured Loans
For homeowners hoping to make large improvements to their property, taking out a secured loan is one option. These are only available to homeowners which means much higher amounts can be borrowed. This makes them useful when moving into a new house which requires a lot of work, as your finances may be lower after purchasing the property.
Guarantor Loans
Those with a poor credit rating and lack of savings who need to start making home renovations immediately could turn to a guarantor loan from Trusttwo. Anyone between 25 to 74 years old with a good credit history can act as a guarantor. As long as you aren't declared bankrupt, in an IVA or debt management plan then you could be eligible for one. This can help out with funding small changes such as repainting a few rooms to larger ones like getting a new kitchen.
Get Your FREE Ebook
DINKS (Dual Income No Kids) Finance focuses on personal finance for couples. While by no means financial experts, we strive to provide readers with new, innovative ways of thinking about finance. Sign up now to get our ebook, "Making Money Tips for Couples" FREE.