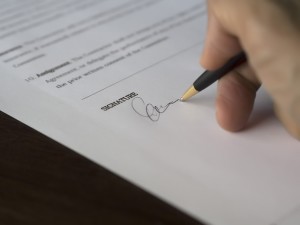 Preparing a legal document in the form of a Will before you die, will enable you to ensure that the family and friends that you leave behind are able to carry out your final wishes according to your instructions.
Passing away without a Will in place will potentially take away that option and you may not get to decide how your assets are distributed after you are gone.
Dying without a will
Some people believe creating a last Will and Testament is extremely complicated and expensive, which means that they end up putting it off, often with disastrous consequences if they subsequently die without having created that vital legal document.
You only have to glance through a list of homes for sale to come across a number of potential properties which could be on the market because the executor appointed by a court, is selling the property to realise the assets held with the estate of someone who died without making a Will.
Passing away without a valid Will means that you are almost certainly relinquishing the right to decide exactly how your assets are distributed, which is something that most of us would certainly not want if we had a choice.
That choice is making a will so that you get the chance to say who gets what you own and without the delays that can occur when a court appoints an executor in the absence of your last Will and Testament.
Appointing your own executor
Part of the process of making a Will is deciding who you want to appoint as an executor.
An executor is your chosen person or persons who you trust to carry out your instructions and help with settling your estate after your death.
It is often a wise move to appoint more than one executor, mainly because you may not be able to settle on just one special person and also in case one of them becomes incapacitated and unable to act for you at the time.
It is a good idea to ask the people you want to appoint whether they are happy to be named as an executor on your Will and once the Will has been completed, be sure to tell them where the document is stored.
Understanding the jargon
Your last Will and Testament is an important legal document and because it is an official document that outlines how you want your assets distributed, there will some standard legal terms used in the document.
As the person who is making the Will, you will be referred to as a testator, or if you are female, you may be referred to as a testatrix. A beneficiary is the person who is going to be receiving the gift or cash or assets and this can be either an individual or an organization.
Changes in circumstances
Making a Will is understandably important in the first place for the reasons already outlined, but once you have one in place it is also vital that you get it updated when you have a major change in your personal circumstances.
An example of this would if you get divorced and subsequently marry again.
In the majority of jurisdictions, getting married will revoke a previous Will although you can get expert help with the wording to cover your situation, such as a Will in contemplation of marriage.
It is also possible that getting divorced will also be a life event that may serve to revoke your previously made Will.
You may find that in some jurisdictions your entire Will is subsequently revoked immediately upon your divorce being officially confirmed. The best advice is to seek advice and update your Will whenever something happens in your life that could affect it, such as getting married or divorced, or having children or grandchildren that you want to include.
Listing your children
Life does not always go to plan and sometimes you might feel the need or desire to disinherit one of your children.
It is important to note that in these circumstances you must list all of your children in your Will and then specifically name the child you wish to disinherit.
If you fail to name them in your Will because you don't want them to get anything, the exact opposite could actually happen, as the court might make an assumption that you omitted them in error and allow them to contest your Will. It is always best to list your children and specify all of your instructions in order to avoid any potential confusion or issues after your death.
Creating a Will is the first important step you should take and remember it is not as complicated as you might have envisaged. Without this vital document, your final wishes may not be fulfilled.
Bill Beazley has been building new homes in the Augusta, Georgia, area since 1976. He has been recognized numerous times by the Home Builders Association as Builder Executive of the Year for the continuous contributions he has made to the development of the counties in which he builds new homes. With more than 30 years of hands-on experience, complemented by an experienced staff, Bill Beazley has the expertise, knowledge and commitment to make the purchase of your new home and the building process easy and satisfying.
Get Your FREE Ebook
DINKS (Dual Income No Kids) Finance focuses on personal finance for couples. While by no means financial experts, we strive to provide readers with new, innovative ways of thinking about finance. Sign up now to get our ebook, "Making Money Tips for Couples" FREE.