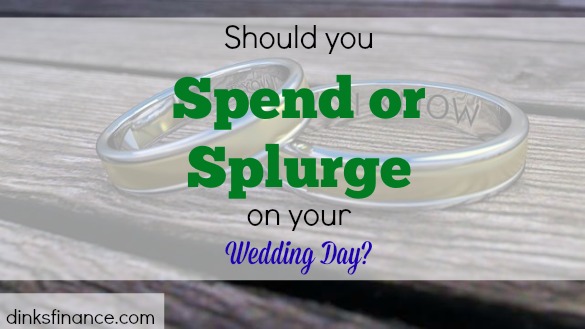 A wedding is a very special day, it's the first day of the rest of your life with your new spouse.  Some brides like to plan their dream wedding and spend tens of thousands of dollars on one single day.  Some others are just happy making the commitment to their loved one and don't feel the need to spend a lot of money in the process.
So which side are you on?
There is an episode from the TV show Friends when Chandler and Monica get married.  In the scene the morning after their wedding Monica says "Yesterday I was a bride.  Today I'm just someone's wife."  I laugh every single time I watch it.  It's funny because it's true.
It also makes me think that spending a ton of money on one day is not money well spent, but I'm not married.  I would much rather set an affordable budget and not start my life as husband and wife with a ton of debt from our wedding day.  It's the same principal as working through college as oppose to taking student loans so you don't start your adult life in debt.  I just wouldn't do it.
I would much rather find a perfect balance between a big expensive dream wedding and look for ways to cut costs so I can afford my dream wedding on a budget.  Doesn't that sound like a much better idea?
Here are some ways to save on the costs of your wedding day:
Don't splurge on a dress you'll wear once
Yes all eyes are on the bride, but is that a reason to spend thousands of dollars on one outfit – possibly more than the cost of your entire wardrobe?  It's much better to shop for an affordable dress that's both pretty and comfortable. If you know your measurements you can even shop online for your wedding dress.
Let the groomsmen use their own suits
For the groom and groomsmen consider renting tuxedos or have them wear black suits.  If you save on the costs of the wardrobe you can spend the money on something else. The wedding party can still look coordinated with matching ties (which you can buy) and flower boutonnieres.
Look for good travel deals for your honeymoon
There's no rule that says you have to jump into a car and jet off to the airport directly from your wedding reception.  Look for last minute travel deals and give yourself a few destination options in case your first choice isn't a good deal.  Also avoid telling everyone that you're on your honeymoon because married couples are notoriously overcharged.
Spend money on the experience with family and friends
If I was getting married I would definitely splurge on the wedding reception.  Not on decorations, but on the ambiance and experience.  I would have good food, but limit the courses to cut costs and I would spend money to get a really great DJ for the music.  After all the wedding is just as much about the party with family and friends as it is about starting your life as husband and wife.
What was your biggest cost at your wedding?