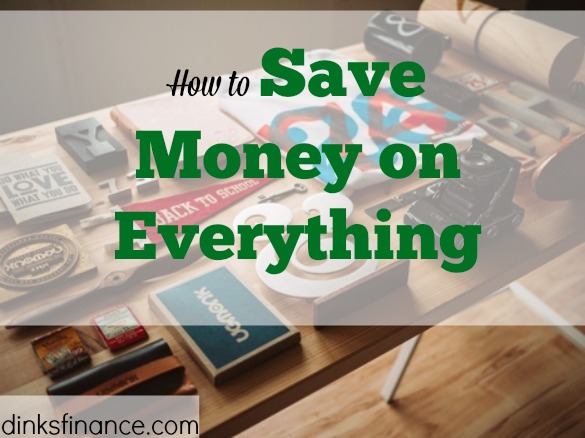 Shopping can be taunting.  I don't know about you but I always feel like I'm shopping for something whether it be clothes, vacations, furniture or groceries.  If there are two things I love and hate in this world it's that I love saving money and I hate wasting money.  Overpaying for anything, even $3 makes me physically ill and I think about it for days.  So to avoid all that anxiety I try to save money whenever and wherever possible.
Of course every purchase has its own special pricing and different stores have unique ways to save money, however the truth is there are ways to save money on almost anything you buy.
Look for sales
This should sound like a no brainer, but the truth is people don't always look for sales.  Humans are creatures of habit and sometimes we choose our routine over a better price.
My grocery list looks almost the same every week and therefore my grocery budget doesn't vary too much.  However if I need an unusual or irregular item I always look for a sale – otherwise I don't buy it.
Consider the second best
This rule is especially true when shopping for household items.  When you're shopping for groceries big name brands can charge more for their items because they know consumers trust the brand.  However a name brand is not a reason to overpay for items.
Some people believe that better quality equals a higher price, but that's not always true.  If your item is not on sale then choose the next best thing to save money.
Go out of your way for a good deal
Shopping for convenience is a big money waster.  Grabbing food on the go, finding a one stop shop for your weekly groceries and buying everything at the store closest to your home are all ways that we shop for convenience and waste our hard earned money.
Check local flyers and find the best prices for your needs.  Sometimes you'll need to take the less convenient route to find a good deal and that's O.K. because it's always O.K. to save money.  Just plan ahead to time to make sure your route is efficient.
Ignore the sale price
I was at a store (not to be named) and saw a blouse on sale for $49.95  I thought it was an O.K. deal only to rip off the price tag and find that the original price was $50.  I couldn't believe it.  Is that really a sale?  From that moment on I changed my shopping habits to avoid looking at the sale price vs. the original price.
Now I look at the bottom line and ask myself if I want to pay $49.95 for a blouse or is that too much.  Of course $19.99 would be a lot better price.  If the quality is good and the item has multi-purposes then the price is worth the cost.  However I will never ever again buy an item just because it's on sale.
Get Your FREE Ebook
DINKS (Dual Income No Kids) Finance focuses on personal finance for couples. While by no means financial experts, we strive to provide readers with new, innovative ways of thinking about finance. Sign up now to get our ebook, "Making Money Tips for Couples" FREE.