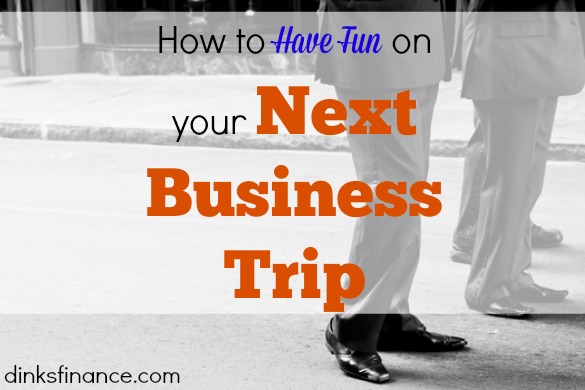 Travelling for business can be a great perk offered by employers.  It gives employees the chance to get out of the office, make new connections in the company and go to places they may otherwise never have the opportunity to visit.
I know some people – especially those who travel a lot – feel that business travelling is more work than being in the office and in some cases that's true.  The key to enjoying business travel is to add in a little time for personal stuff.  Even though the main purpose of your trip is business there's no reason you can't add in a little pleasure too.
Here are three ways to make the most of your next business trip:
Add in an extra day
Arriving a day early or staying a day later is a great way to gear up before or decompress after a business trip.  While you're working you probably don't have a lot of time to explore the city.  Giving yourself an extra day to spend time sight-seeing and exploring a new neighborhood can give your business trip a personal touch.
It's always a good idea to check with your company travel policy to ensure you can add the extra day, but in all honesty it may be necessary.  If your meeting/presentation is early in the morning you may have no choice but to travel the day before, so book an earlier flight and take the day to enjoy your new temporary surroundings.
Bring your spouse
Having your spouse by your side during all or a part of your business trip can feel like home away from home.  Travelling for business can definietly be stressful because you have to be on your game much more than just 9 to 5.  However relaxing with your spouse at night or spending an evening on the town can make the trip more fun.  Downtime in airports during connections and layovers can also be extremely boring, having your spouse by your side can make time go by a lot faster.
Do something out of the ordinary
I admit that I have a routine when I travel for business.  I like to get takeout food and eat it in bed in my pyjamas, something I never do at home.  However after spending a lot of time away from home in hotel rooms I quickly started getting bored.  I told myself that from now on every single trip I take I will do something that I never do – outside of the hotel room.
When the facilities are available I make a point to sit in the sauna for 30 minutes.  Steam rooms are good for the skin, clear the pores and it's extremely relaxing.  These are all things I need when I'm on the road travelling for business.  It's free, it doesn't cost my company (or me) any extra money and it gets me out of the hotel room.
What's your favorite thing to do when travelling for business?