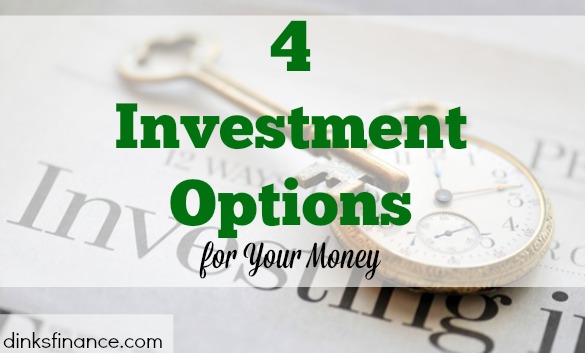 If you have a lump sum of cash to invest you may be searching the web and visiting your bank's website to find the best investment option for your money.  Investing is so personal that there isn't a one size fits all answer to "How should I invest my money?"
However there is an answer to "Which is the best investment for me?"  The only way to find the best investment for you and your money is to research your options and match your investment objectives to the investment goals.
Here is an overview of four different investment options:
Cold hard cash
I am not sure this can actually qualify as an investment, but we're going to discuss it anyways because it's an option for your money and one that a lot of people use.  Cash is a good place to park your money for the short term.
Cash investments include savings accounts and high interest savings accounts.  They're great if you may need access to your money because you can withdraw at any time, however they don't pay a lot of interest – or any at all.
Bonds
Fixed income investments such as bonds are a great first investment if you're new to the whole thing. They work like an investment contract meaning you give the bank (or investment firm) a fixed amount of money and in exchange they give you a guaranteed rate of return – usually in the form of interest.
You can purchase individual bonds directly or a portfolio of bonds through a mutual fund.  It's important to remember that interest income is taxed at the highest possible rate.  So if you want security and a small rate of return bonds may be the investment for you, but you will have to pay tax on all your profit.
Domestic equities
Equities such as mutual funds, ETFs and stocks are higher risk investments that also offer a higher potential rate of return.  They invest in the stocks of companies whose value fluctuates daily with the market.  This is more than some people can handle so investing in equities is not for everyone.
With that being said there are different levels of risk that come with different investments.  For example, buying stock in a well known Fortune 500 company or a Blue Chip company who has a proven history of being profitable is a lot less risky than buying a stock in a new company that is coming to market with an Initial Price Offering (IPO).  Although past performance is not an indication of future profit it will give you an idea of how the stock price has fluctuated in the past.
Foreign investments
If you want to invest in other countries and take the exchange rate risk then foreign investments may be the right investment option for your money.  Foreign investments can be purchased as equities or bonds and of course the risk with each is as discussed above.
The truth is the key to finding the perfect investment for your money is to find balance in a well diversified portfolio which can include all of the investment options above.
Get Your FREE Ebook
DINKS (Dual Income No Kids) Finance focuses on personal finance for couples. While by no means financial experts, we strive to provide readers with new, innovative ways of thinking about finance. Sign up now to get our ebook, "Making Money Tips for Couples" FREE.