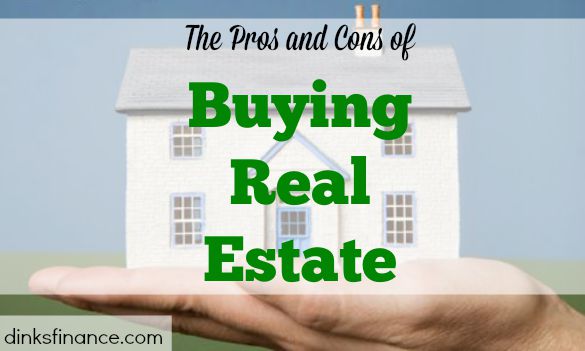 With interest rates at an all time low now may be the time to buy real estate, or at least that's what they say.  Buying a piece of property – whether it's your primary residence or an investment property – can be a good investment if the value increases over time and if you rent it out to bring in more income every month than the expenses cost.  However being a property owner or landlord isn't always a good fit for everyone.
The pros of buying real estate
When you purchase a primary residence the property is your own.  You no longer need to deal with rental agreements, annual lease renewals (I'm in the middle of this right now) and landlords.  You own the property and land and you're free to do as you please with it, as long as it's allowed under city bylaws.
Even if the value of your property decreases over time due to the economy, city and neighborhood it is very unlikely that your property will ever be worth $0.  This means that buying real estate will usually increase your net worth, especially as the years pass and your mortgage loan value decreases.  The value of your net worth is the total value of your assets minus your debts.  If the mortgage loan on your property is paid off then your net worth increases based on the current market value of the home.
It's been said that renting is like throwing away money because you're paying someone else to live in their property.  When you're the property owner you are paying a mortgage loan to the bank and if you've bought a rental property then a tenant is paying you.  It seems like a pretty good deal.
The cons of buying real estate
When you're the property owner there isn't a landlord who you can call when something goes wrong such as if a pipe bursts or if the hot water heater breaks down.  The cost of home repairs and upkeep can quickly add up and that can be an expense home owners just aren't ready for.  This is why it's important to have an emergency savings fund for your home – just in case the unexpected pops up.
Having a mortgage payment, negotiating interest rates with your bank and saving for a down payment can all be home buying related items that people just aren't ready for.  In addition to the monthly utilities (i.e. heat and hot water) and the mortgage payment there are other costs associated with owning a property such as property taxes.  Keep this in mind if you're thinking of buying real estate.
When you're renting you just have one payment to make every month – the rent.  You don't need to worry about things like property taxes and down payment when you're a renter.  This is why the carefree and no-responsibility lifestyle of renters may be preferred.
Do you rent or own your home?
Read More: