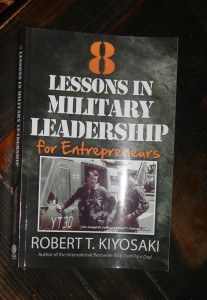 The military puts its people through rigorous training and preparations to fight for our country. And for Robert Kiyosaki the lessons learned in military school helped prepare him for entrepreneurship.
Popular author of Rich Dad Poor Dad has released a new book, 8 Lessons in Military Leadership for Entrepreneurs.
In this book Kiyosaki takes us back to military school and teaches eight powerful lessons on applying military training to business.
What's Inside
This is book is sectioned into two parts.
The first section of this book lays out the ground on why some people don't make it as entrepreneurs and how to become one.
In the second section you're walked through eight powerful lessons that will show you how to apply military leadership to grow your business.
The chapters include:
Part One
Mission Critical
How to Become an Entrepreneur
Part Two
Leaders are Role Models
Are You a Loner or a Leader
Discipline Delivers a Higher Quality of Life
The Power of Respect
The Need for Speed
Unite to Win & Divide to Conquer
Leaders are Teachers
Leaders is One Big Sales Job
With Different Actions Come Different Results
Kiyosaki has long been one of my favorite personal finance authors for his out of the box thinking. Rather than focusing on nothing but frugality Kiyosaki has shown many people the way to building real, long lasting wealth.
This book is no different.
In fact, one of the things that most surprised me in this book was Kiyosaki's thinking on needing to be a generalist to own a successful business.
As a reader of many business books I often see the advice that you need to become a specialist on one particular subject to make it. While this might work well when you're first venturing off into self-employment Kiyosaki suggest you need to become a generalist who surrounds himself with smarter people to develop a larger successful business.
Failing Fast to Make it Big
Another highlight in the books for me was hearing what it took for Kiyosaki to make it in sales. His Rich Dad had given him the advice that he needed to fail faster if he was going to make it. Calling on 3-5 people per day just wasn't working.
So, Kiyosaki started volunteering at a dial for dollars just to learn how to fail faster.
Failing fast has been one of the most valuable lessons for me in my own business endeavors. Every entrepreneur faces failure and rejection. It's how you react and how fast you can bounce back that determines your overall success.
I think it's pretty evident that Robert Kiyosaki is a successful business man in several different niches. It was fun to get inside his mind in this book to see what traits have catapulted that success.
You Can Win a Copy!
Want to check out 8 Lessons in Military Leadership for Entrepreneurs? Leave a comment below telling us what chapter of the book interests you the most for your chance to win a copy.
The contest is open until June 16th. A winner will be chosen at random.
If you don't want to wait that long be sure to check out Robert Kiyosaki's new book on Amazon.
Get Your FREE Ebook
DINKS (Dual Income No Kids) Finance focuses on personal finance for couples. While by no means financial experts, we strive to provide readers with new, innovative ways of thinking about finance. Sign up now to get our ebook, "Making Money Tips for Couples" FREE.