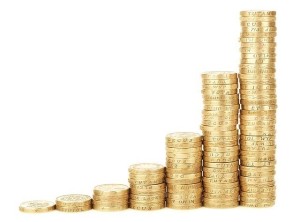 Gold is the most popular investment among all the other precious metals. Investors purchase gold as a way of diversifying risks in their investment portfolio. They say it's a form of safety net as gold has been stable throughout the years but as with any other type of investment, it is still subject to volatility as with other types of investments in the stock market.
If you are just beginning to invest in gold, or if you would like to explore on other ways to invest in gold, it is important that you must have a clear understanding of the process, whatever your reasons are. As a newcomer in this type of investment, it is also essential for you to know that there are many ways to invest in gold. Here are the most common forms of gold investment for you to choose. You can select the best ones that suits your interests and decide what kind of gold you'd like to purchase.
Gold coins. One of the most popular options out there. If you're looking to buy gold coins and keep it safe in your possession, you have to purchase it through a network of authorized dealers. These are wholesalers, participating banks, coin dealers, brokerage companies and precious metal firms. A few examples of gold coins traded in the market are South African Krugerrands, American Eagle and Canadian Maples.
Gold bars. These come in metric sizes and based directly on that day's gold price with a premium in manufacturing and marketing. It can be bought in several ways such as online auctions or buillon dealerships.
Exchange-traded funds or ETF. Gold ETF is not exactly a fund as they follow a single security. These type of ETFs are traded on the London Stock Exchange. They are regulated financial products and the stock exchange tracks the gold price and it can be traded daily.
Gold jewelry. Another popular option in holding gold. The percent of pure gold in the item contains karat number — from 10k to 24k for pure gold. In buying jewelry as an investment, keep in mind that the karat amounts affects the durability and price of each piece. Gold jewelry is weighed in grams — the higher the gram weight, the more expensive it is.Usually, gold jewelries are worn, and it's not primarily as an investment. You might risk losing a lot of money if you plan on selling your jewelry at an inconvenient time.
Gold Mining Stocks or Certificates. Certificates were used as part of a gold standard and can be exchanged for equal value of gold. Nowadays, gold certificates offer investors holding gold without it being present physically. These are easily traded and issued by individual banks in countries like Switzerland and Germany. The bank holds the metal in behalf of the client and they confirm individual ownership.
There are several other ways to invest in gold but these would be the most basic in the market out there. Whatever your reason for investing in gold, be aware of what's driving you. The desire in acquiring a precious metal that can diversify risks in an unstable marketplace but you still need to take time and do your research before making any major moves in adding up gold into your investment portfolio.
Get Your FREE Ebook
DINKS (Dual Income No Kids) Finance focuses on personal finance for couples. While by no means financial experts, we strive to provide readers with new, innovative ways of thinking about finance. Sign up now to get our ebook, "Making Money Tips for Couples" FREE.