Going to college is expensive, especially when you are funding everything yourself. Books, tuition, housing, and meals all can add up quickly, so you may find yourself without much left at the end of the month. Creating and sticking to a budget is a great way to watch where your money goes, so you can plan ahead and still have enough for the things you need.
Write Down Expenses
The first step to creating a doable budget is writing down all your expenses for a month, along with the income you typically receive. You can look at your bank account and credit card statements to make it realistic, but if you don't include the basics, your budget will fail quickly. Don't forget about things like a cell phone bill, parking permit, or any other items that might pop up.
Create the Budget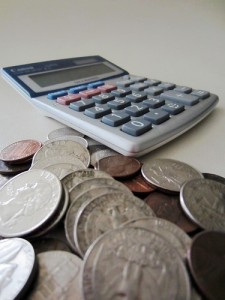 Image via Flickr by 401(K) 2012
Now that you understand where your money has gone over the past few months, you can start to separate wants from needs. Gas for your car is probably a necessity, but consider how much you really need to get to and from school and work. If you are spending a lot of extra on gas each month so you can pick up friends or drive around town, you might want to cut back and stay in a little more often. Some experts recommend carrying a weekly allowance in cash so that when the set amount is gone, it's gone.
Credit Cards
College is a great time to start building credit, since you will need it to qualify for an apartment rental, auto loan, or any other loan that you will want in the future. However, use caution when pulling out the credit card. Most credit cards have high interest rates, so if you can't pay off the balance, it's best to wait on buying the item until you can. Students who amass large amounts of credit card debt in college often feel the impact for years after graduating. Poor credit can even impact your ability to get a job.
Student Loans
If you just can't make enough to pay for your expenses, student loans can be a great help during school. Be sure to do your homework before you sign on the line since some lenders have stricter requirements for paying them back. You should have a clear understanding of what they expect in terms of repayment prior to obtaining the loan. Some students can qualify for financial aid, which might offer greater benefits than a loan, so consider all your options before you make a decision.
Lower Tuition
Some colleges offer online classes that can be less expensive than taking in-person courses. If this is the case at your school, consider the online option. You will need regular access to a computer to complete assignments, but most colleges have computer labs or rentals available. At Adelphi University, you can take many courses online and continue to work while you complete your degree.
Saving money and planning ahead while in school might seem impossible, but with a few simple steps, you can avoid the stress of financial worry.
Get Your FREE Ebook
DINKS (Dual Income No Kids) Finance focuses on personal finance for couples. While by no means financial experts, we strive to provide readers with new, innovative ways of thinking about finance. Sign up now to get our ebook, "Making Money Tips for Couples" FREE.