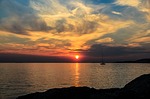 Good morning Dinks and happy Friday.  I'm back from my long weekend in New York City and I'm getting back into my routine.  Has spring fever hit you yet?  We had a lovely warm spell over the last few days and it's been great, but today it's cold again.  Oh well it's the weekend and I can stay in doors.
Enjoy your weekend Dinks.
Here are some good reads to start your Friday off on the right foot:
Clever Dude – Should You Invest in a Gold IRA?
CESI – 10 Resources for Financial Education
Budgets Are Sexy – My Answer to All Financial Debates
Afford Anything – Investing, Broken Down to its Ridiculously Simple Core
Blonde & Balanced – 5 Things You Shouldn't Spend Money On, But Probably Do
Photo from I'd Pin That
Get Your FREE Ebook
DINKS (Dual Income No Kids) Finance focuses on personal finance for couples. While by no means financial experts, we strive to provide readers with new, innovative ways of thinking about finance. Sign up now to get our ebook, "Making Money Tips for Couples" FREE.