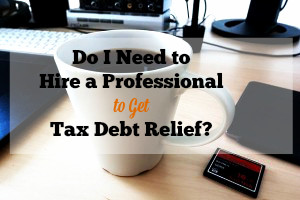 What is it about spring that causes a bit of anxiety in the air? Oh yes, it's tax time. Are you facing stress due to tax debt? Well, let this be the year that you confront your tax troubles head on and fix them once and for all. But, how? Hiring a financial professional is a smart route to go.
A tax debt relief professional or company knows the ins and outs of tax debt and are skilled in helping people get out from under it. They've seen all kinds of cases and know what to do to help you. Each case is unique, so it's important that the solution they come up with fits what you're looking for and lessens the financial strain you experience in the future.
Some people will consider trying to handle tax debt on their own before going to a financial advisor with experience in the industry. There are pros and cons for choosing either route, which you should fully consider before deciding what to do.
If you decide to go at it alone and handle your tax debt yourself, it may be less expensive for you since you don't have to hire an outside person. However, it can end up being more costly to you in the long run if you make a mistake or don't understand all the jargon that the IRS uses in its correspondence with you.
Remember that the IRS can issue a tax levy or wage garnishment as a possible solution to have you pay back the taxes you owe. They're most interested in having your taxes paid and not what kind of financial situation you currently face.
Another pro of handling your tax debt by yourself is the satisfaction of figuring out a solution to a problem on your own. When it comes to taxes though, it's a very delicate matter, which may require the help of a financial professional. Consult with a tax debt relief service first and then decide if you can do it on your own. A debt relief service may actually alleviate some of the stress you are feeling by setting up the payment plan for you or negotiating with the IRS on your behalf.
Even if you can do something, it doesn't mean that you're the most qualified person. In most cases, the pros outweigh the cons for hiring a professional to help you with your tax debt relief. First, you will want to research companies that have at least five years experience and have a good standing with the Better Business Bureau. Also, don't be afraid to make a list of questions for your first consult so you fully understand the process of what you're paying for and what you're getting in return.
Chances are that you'll find a company that you feel confident with that also has reasonable costs for their services. Whatever you choose, it's important to take time to choose the best solution for you.
Get Your FREE Ebook
DINKS (Dual Income No Kids) Finance focuses on personal finance for couples. While by no means financial experts, we strive to provide readers with new, innovative ways of thinking about finance. Sign up now to get our ebook, "Making Money Tips for Couples" FREE.