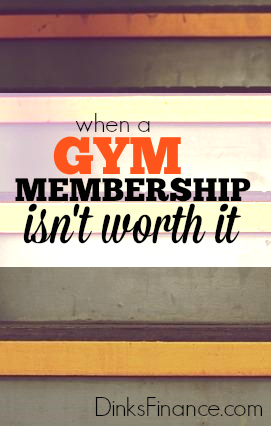 Good morning Dinks.  As you know in November I joined a gym and I am head over heels in love with it.  I love having something to do every night after work other than come home and keep working.  I like the feeling after I work out, although getting my butt out of the house and going to the gym is a whole other story.  Needless to say when I'm at the gym I love it and when I'm not there it just seems like a total waste of money.
Do you pay for a gym membership?
Over the holidays my gym was open very few hours, yet I was still charged for the entire month of December.  I wasn't pleased about that but it's only two weeks of the year so I guess I'll let it go.  I also hurt my back in the month of December and from the 23rd to Jan 3 I was flat on my back at home so that was also a waste of money.   But overall I would say my gym membership is worth it.
Over the holidays I watched Bob Harper share healthy living tips on the Rachel Ray show.  He said that weight loss is 80% what you eat and 20% physical activity.  That means people can't workout 4 days a week and still eat whatever they want.  That's too bad.  I'm not sure which is the harder part of losing weight: changing our eating habits or getting settled into a workout routine.
A gym membership means changing our habits
I personally think changing our eating habits is easier because we eat every day, it doesn't really take a lot more effort.  We go to the grocery store anyways so it seems easy to make smarter food choices since we're already there.  However going to the gym is a whole other story.  We physically have to make an effort to get out to the gym and I think that's harder.  Since I'm doing both yes I can say it's harder to start a new habit than it is to change one you already have.
This is especially true during this time of the year when it's really cold outside.  It's hard to get dressed and go into the cold, snowy weather when you are already warm and cozy inside your home.  How do I stay motivated to get to the gym?  I just think about coming back home to the warmth.  I also like the physical activity of going to the gym.  It's 45 minutes 4 times a week that I can just clear my head and focus on myself.  There are no bills to pay, no troubles to think about and nothing else to do but work out.
When your gym membership isn't worth it
If what Bob Harper says is true about the majority of weight loss being focused on food the one time your gym membership is not worth it is if you don't eat right as well.  That's what I tell myself every single time I want to eat a bagel or snack on a chocolate bar.  Before I eat junk food I think "You're paying $40 a month for a gym membership, don't eat that piece of chocolate."  And let me tell you that's a daily internal conversation I have with myself.
Do you love your gym?
Get Your FREE Ebook
DINKS (Dual Income No Kids) Finance focuses on personal finance for couples. While by no means financial experts, we strive to provide readers with new, innovative ways of thinking about finance. Sign up now to get our ebook, "Making Money Tips for Couples" FREE.