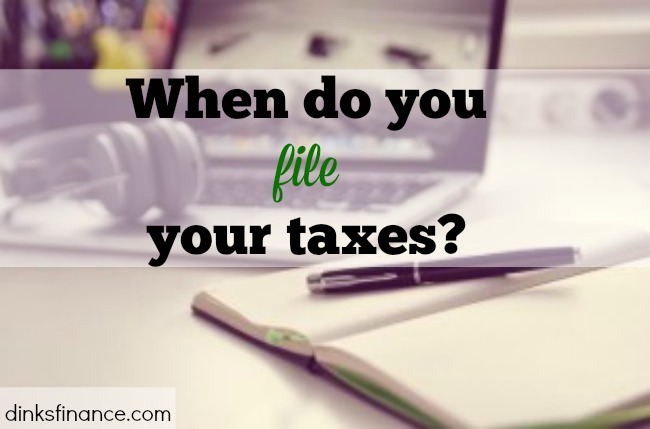 I love the new year.  Do you want to know why?  Because it starts off tax season.  Even though the filing deadline is in April I love getting all my papers organized early in the year.  I usually have everything all ready by mid February and then as soon as I get the tax slips from my employer I can go see my accountant.
Last year I dropped off all my information to my accountant during the first week of March and by the next week my taxes were officially filed.  When I went to sign the forms and pay the bill I made a comment about the office being quiet and you want to know what he said to me? My accountant said "Only people who need money file their taxes in March."  I honestly didn't know what to say – partially because I was offended and partially because he was right.
Filing taxes early has several advantages and if I have all the information I need I really don't see the point in waiting until the deadline in April to file my taxes.  Who does that?  The only thing I'm always late for is my schedule.  Yes it's true. If you have a meeting with me – anything from coffee to a phone call – the odds are I'm going to be 5 to fifteen minutes late.
I'm really trying to work on it and I'm getting a lot better but for some reason I'm always rushing because I'm always five minutes late.  So if you meet me this year at NMX in Las Vegas or FinCon and I'm all sweaty please don't be offended; I did shower before our meeting but I ran five blocks to make it on time.
Why do I file taxes with an accountant?
OK back to my accountant and my taxes.  I am never going to get angry with my accountant because I've been using him for years, he refers me business and he gives me a really good rate.  I also usually (knock on wood because I don't want to jinx it) get a refund which is nice.
With my 9 to 5 and my freelance work I could never do my taxes myself.  As a financial planner I do like numbers – but not when it comes to my taxes.  The thought of calculating, adding, deducting and looking for credits makes my head hurt!
Why do I file so early?
Owing people money and people owing me money drives me crazy; like can't sleep, keeping writing it down on a million Post-It Notes drives me crazy.  I just don't like it and it stresses me out.  This is a major reason why I file my taxes as early as possible.
The second reason is it's really nice to get a lump sum of money.  I mean who doesn't want that as soon as possible?!
The third advantage of filing your taxes early is to avoid the rush.  If I file in March I will have my refund within three weeks.  While everyone else is waiting to get an appointment with their accountant in April I'm waiting for my refund from the government.  That's great.
Do you file your own taxes?
Hats off to anyone who files their own taxes.  Maybe if I didn't file joint taxes with Nick and maybe if I didn't have eight different jobs I would file my own taxes.  Maybe.
Our friends over at H&R Block have an exclusive offer right now on both their Deluxe and State desktop software. Get yours here.
Get Your FREE Ebook
DINKS (Dual Income No Kids) Finance focuses on personal finance for couples. While by no means financial experts, we strive to provide readers with new, innovative ways of thinking about finance. Sign up now to get our ebook, "Making Money Tips for Couples" FREE.