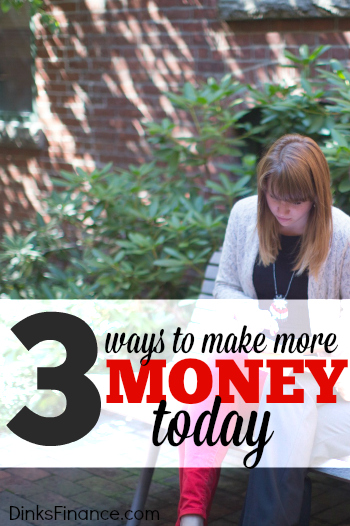 Good morning Dinks.  Let me ask you a question, did you set a goal to earn more money this year?  Yes it's that time of the year again.  The time when we all have a look at our bank accounts and credit card statements and think to ourselves "I'm going to do handle my money differently this year."
Did you know that money goals are the third most common New Year's resolution according to Statistic Brain – right after losing weight and getting organized.  So are you one of the many Americans who vowed that 2015 will be your money year?  Maybe you did set money goals because you want to increase your credit score, learn to live on a budget or increase your retirement fund.  These money goals are all very different but they all have one common denominator – they all require more money.  If you want to have more disposable income every month  there are only two ways to get it – spend less or earn more.  So which one are you going to do?
Here are 3 ways to make more money today:
Sell your stuff.  I read all about this on other personal finance blogs all the time, people make a lot of money by selling their unwanted items on websites or at yard sales.  The only thing I've ever sold on Craigslist was my car.  We needed to sell it for financial reasons and I had no idea how to go about doing that so I listed it on Craigslist.  Three people came to look at the car and the second couple bought it.  I got more than the dealer was offering, paid off the car loan in full and even made a little profit.  All in all I would say that selling our unwanted item on Craigslist was a big win.
Start a side hustle.  I'm not sure this is the fastest way to make more money today but it's definitely the one that will sustain your extra income over the long term.  Starting a side hustle is a great way to earn more money; the added benefit is that you are your own boss working on your own time so you have the ability to earn as much (or as little) as you want.
My side hustle started out as a way to supplement my income after the market crash.  Now six years later it's a nice little business that gives me extra money each month for travelling, paying off debt and savings.  It also lets me splurge without actually feeling guilty about it since my side hustle is extra income, it doesn't take away from our normal expenses.  Take your hobby or something you love and turn it into a side hustle; it can be anything from party planning to hairdressing.
Sell other people's stuff.  If you don't have anything of your own to sell you can be a broker and sell other people's stuff – think Pawn Stars, Storage Wars and Auction Hunters.  Of course I'm not telling you to open a thrift store, but you never know where your little side hustle adventure will take you.  Selling items on Etsy and eBay is another great way to make some extra money.  If you don't have anything to sell start hitting up garage sales and buying items for resale.  $5 here, $10 there can add up to a lot of money at the end of the month and it can help you achieve your financial goals faster.
Get Your FREE Ebook
DINKS (Dual Income No Kids) Finance focuses on personal finance for couples. While by no means financial experts, we strive to provide readers with new, innovative ways of thinking about finance. Sign up now to get our ebook, "Making Money Tips for Couples" FREE.