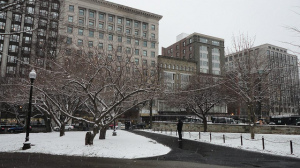 Happy Friday Dinks.  We've searched the web to find the best of the best of personal finance posts this week.  So dive in and start your weekend off with a little bit of finance.  On a side note that's a picture of Boston Common.  It's absolutely gorgeous in the winter, if you get a chance to visit B-Town during the holidays I definitely recommend it.
Enjoy these posts and have a great weekend!
Girls Just Wanna Have Funds – If You Run a Business Together, What Happens When You Divorce?
Money Talks News – Shopping for your guy? 10 things not to buy
Budgets are Sexy – Proof You Can Live off 50% of Your Income
The Broke and Beautiful Life – Bringing Positivity to Retirement Savings
Young Adult Money – 7 Reasons Why You Should Track Your Spending
Get Your FREE Ebook
DINKS (Dual Income No Kids) Finance focuses on personal finance for couples. While by no means financial experts, we strive to provide readers with new, innovative ways of thinking about finance. Sign up now to get our ebook, "Making Money Tips for Couples" FREE.