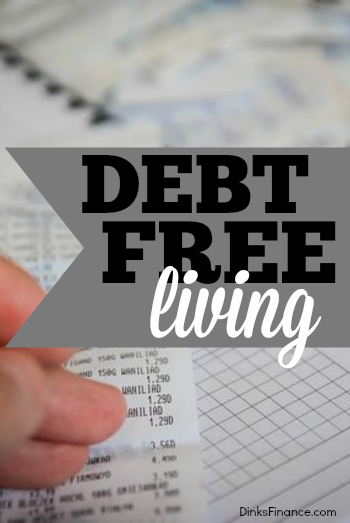 Good morning Dinks.  A couple of weeks ago I confessed that now after three years of being debt free I'm in debt again.  Even though I get credit card bills at the end of the month I don't consider myself in debt.  Why?  Because I'm not running around town buying everything and anything with my credit cards.  I got into debt for a very specific reason a.k.a. furniture for our new apartment and in six little months Nick and I will once again be debt free.
I don't ever want to be in debt again.  Why?  Because it's a freaking nightmare.  The type of stress that comes with financial distress is emotion like no other.  I learned a lot from my debt and in some ways it did make me a better person, but I always tell people I've been in debt and I'm not going back.
Being debt free is a huge stress relief and I like how I feel living without the burden of debt.  I've changed my entire lifestyle – mentally, physically and emotionally – to make sure that I never get back into debt.
This is how my habits have changed to make sure I stay debt free:
Mentally.  I've learned that having available credit doesn't mean you have money.  Having credit cards doesn't mean you have to use them. I'm not sure why but I used to think having credit made me an adult, but now looking back on it I hear how ridiculous that sounds.
After shedding my blood, sweat and tears by working three jobs to pay off my debt I am now over the need to have three credit cards and a gold card with fees.  I have one credit card and that's all I need.
Physically.  Truth be told the way I stopped swiping my credit cards was to forget about them. I don't even carry my credit card in my wallet anymore because if it's there I will be tempted to use it.
I grab my credit card if I know I'll need it that day and if I want to buy something but don't have the card in my wallet the item can wait.  I can usually talk myself out of any purchase whereas in my old financial life I could talk myself into buying anything.  Now without my credit card in my wallet the temptation to swipe it is gone.
Emotionally.  Being over my head in debt and having my entire life come crashing down when I hit rock bottom was definitely a very sad time in my life.  Having debt is an emotional roller coaster, if you've ever been in debt you know what I'm talking about.  Getting out of debt was also very emotional, I had happy times when I was making payments and sad times when the balances weren't going down as quickly as I wanted them to.
Selling my car and downsizing my apartment to save money was definitely a personal hit to my ego.  I have never felt so defeated in my entire life – but it was temporary.  Getting out of debt was the ultimate high and I've been happy ever since.
 How has debt free living changed your life?
Get Your FREE Ebook
DINKS (Dual Income No Kids) Finance focuses on personal finance for couples. While by no means financial experts, we strive to provide readers with new, innovative ways of thinking about finance. Sign up now to get our ebook, "Making Money Tips for Couples" FREE.