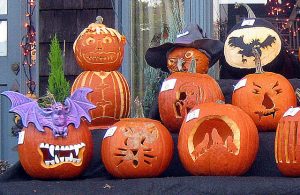 Good morning Dinks and Happy Halloween.  Are you giving out candy tonight?  Nick and I live in an apartment building and I have yet to see a child in this neighborhood so we are going to stay in eat candy and watch scary movies.  A few of our other childless friend couples are going to see The Rocky Horror Picture Show so they aren't giving out candy either.  I'm just wondering if you don't have kids what's the proper protocol on Halloween – do you still give out candy?
Have a fun Halloween enjoy these posts from our friends:
Money Talks News – Go Big or Go Home: The Million-Dollar Halloween Costume
Budgets Are Sexy – Having Enough
50 Plus Finance – Does Marrying Someone with Bad Credit Affect Your Credit Score?
Money Crush – Find Your Money-Making "Something"
Retire by 40 – Halloween Fun On The Cheap
Need This Want That – I Will Not Use My Credit Card For One Full Year
Photo from Flickr
Get Your FREE Ebook
DINKS (Dual Income No Kids) Finance focuses on personal finance for couples. While by no means financial experts, we strive to provide readers with new, innovative ways of thinking about finance. Sign up now to get our ebook, "Making Money Tips for Couples" FREE.