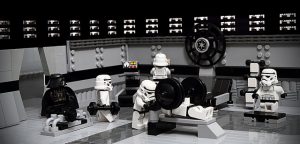 Happy Friday Dinks.  How was your week?  Mine was great.  I'm feeling more and more at home in our new apartment and I joined a gym in my new neighborhood.  Yep that's right I, lover of the outdoors, joined a gym.  For the next 12 months I will have $43 deducted from my bank account every month for my good health.
More about why I chose to spend over $500 a year on my appearance later next week.
If you want some good reads while you drink your morning coffee here are some great posts from our friends:
Boomer & Echo – What Are You Doing With This Stock Market Pullback?
Money Beagle – Planning For Retirement
Club Thrifty – Alternatives to Manufactured Spending
Get Rich Slowly – Lifestyle inflation: How to decide if it's ever okay
Microblogger – Beginner's Guide to Becoming a B-List Blogger
Blonde & Balanced – 5 reasons you don't need a car
Photo from Flickr
Get Your FREE Ebook
DINKS (Dual Income No Kids) Finance focuses on personal finance for couples. While by no means financial experts, we strive to provide readers with new, innovative ways of thinking about finance. Sign up now to get our ebook, "Making Money Tips for Couples" FREE.