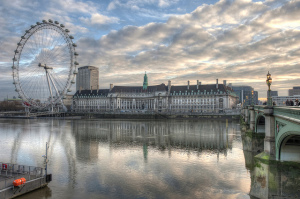 In 2013, London overtook New York City as the world's biggest property market.
New York, which for years was the number 1 city for foreign real estate investors, has now been knocked into second place, as London becomes a magnet for super-rich house buyers from across the globe.
It's estimated that almost 75% of new-build homes in central London are owned by overseas buyers, and real estate investing in London is now a fully international affair, reflecting the city's role as a major world player.
A dramatic illustration of this came with the sale of phase 1 of Battersea Power Station, in which almost all the 800+ apartments sold out in a 4-day stampede, making it the fastest-selling development on record. This was despite the fact that building hadn't even started, and won't be completed for at least three years. The overwhelming majority of the properties went to investors from Hong Kong and Singapore, who along with mainland Chinese have also been snapping up properties in prime areas such as Chelsea, Knightsbridge and Belgravia.
This can partly be explained by the markets in Hong Kong and Singapore, both of which have seen stamp duty increased to the point where property buying becomes virtually unviable. This is especially true in Hong Kong, where the increase in stamp duty is aimed at keeping out buyers from the Chinese mainland, and these buyers now see much more value in London properties. Affluent Chinese families are also attracted by the excellence of the city's educational facilities, and many buy properties for student sons and daughters to live in, as well as for investment.
This wave of overseas investment in London property really took off following the financial crisis of 2007-8, when wealthy buyers across the globe were looking for assets that would maintain their value — while at the same time Britons were increasingly being shut out of the market. In a world of global turbulence, investors from Asia, Russia and the Middle East saw London property as a sort of stable alternative currency, and a safe haven for their funds. Since then, London's emergence as one of the world's most successful cities, economically and culturally, has kept the boom going.
However, this is not the whole story. In the rush to profit from the booming market, developers have actually been actively marketing their properties overseas, sometimes to the exclusion of domestic buyers, at least initially. In particular, developers of luxury homes often advance-sell around 30% of their properties overseas in order to finance continued construction. This practice is being discouraged by the London Mayor, who is sensitive to concerns that it can price domestic purchasers out of the market.
The picture is certainly not uniform across the city — foreign real estate investing in London is concentrated in a few prime locations, with less than 10% in outer suburban areas. Moreover, as the UK domestic market recovers, a shift is becoming evident even in the prime areas, towards a 50-50 proportion of domestic versus overseas buyers. Nevertheless, London will continue to benefit for the foreseeable future from its role as one of the world's few truly global cities.
If you would like to find out more on this subject matter then click on the link below to get through to get up to date information from industry specialists CBRE. Click here for CBRETV
photo courtesy of danrocha
Get Your FREE Ebook
DINKS (Dual Income No Kids) Finance focuses on personal finance for couples. While by no means financial experts, we strive to provide readers with new, innovative ways of thinking about finance. Sign up now to get our ebook, "Making Money Tips for Couples" FREE.