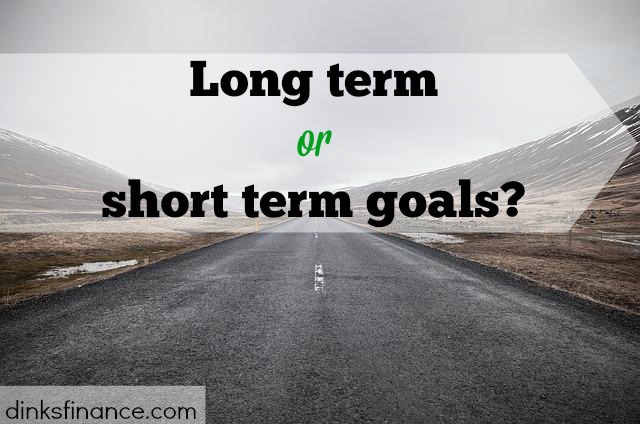 Good morning Dinks.  It seems like every time we meet someone they ask what we want to do over the long term.   When a man meets his potential spouse's parents they ask what their intentions are for their daughter and their relationship, when a woman meets her future husband's parents they ask what her future plans are for children and when we go to a job interview the employer always wants to know where we see ourselves in the company in five years.  So here we go Dinks, let get into it, what are your plans for the future?
I live my life three months at a time
I have to tell you I'm not a big fan of anything long term.  I'm not really sure why but I really suck at setting and achieving my long term goals.  I think it's a mixture of being too much of a commitment and getting bored really quickly.  I lack focus on the long term and I think that's because I work in banking and my professional life is always measured in quarters.
In the world of banking the first three months of the year are dedicated to retirement, the spring time is mortgage season, summer is focused on debt and the fall is focused on back to school.  That's how my professional life has been over the past decade so it only seems appropriate that I mimic my personal life in a similar fashion.
Nick is the exact same way so it really works out well whenever we need to plan.  However at the same time I have to ask myself, where is our relationship going if we only think and plan for the short term?
Why we all need long term goals
The one exception  to the rule is retirement.  I save for retirement but for some reason I don't consider it an actual long term goal, I just think of it as something I need to do for my future.  My various short term goals include travelling, saving, working and  more recently buying furniture to decorate our new apartment.
You may be thinking but Kristina aren't your savings goals long term?  Yes and no.  I guess the money is there for the long term – or at least until I need it – but I try to hit a specific dollar amount every three months.
How to achieve your long term goals
I can't achieve a long term goal I think it's a good idea to use my demise to help others achieve their goals.  Yes that's right, I am going to help you achieve your long term goals by telling you to do the exact opposite of whatever I'm doing.
Here are four ways to achieve your long term goals:
Stay focused.  I definitely don't have this, I can't focus on anything very long because I like a variety.  If you can commit to one thing over time you are already ahead of the game.
Break it down into shorter term goals.  If you lack focus like I do breaking your long term goals down into shorter mini goals will help you hit milestones and stay motivated.
Track your progress.  I like short term goals because you can achieve them so much faster but if you track the progress of your long term goals it can keep you motivated.  Tracking the progress of long term goals will help make sure you are working towards them and make sure you  achieve your goal within the deadline.
What are you working towards over the long term?
Get Your FREE Ebook
DINKS (Dual Income No Kids) Finance focuses on personal finance for couples. While by no means financial experts, we strive to provide readers with new, innovative ways of thinking about finance. Sign up now to get our ebook, "Making Money Tips for Couples" FREE.