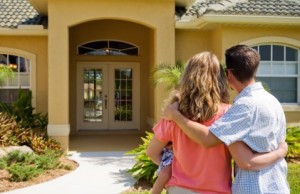 Good morning Dinks.  We are moving.  Yes that's right after six years of living in the same apartment Nick and I are moving.  Come October 1st we will be starting the next phase of our lives, but there's just one little glitch – we haven't found a new place to live.
Should we buy or rent our next home?
As you know we love renting our apartment.  However as we get older our list of home must haves is growing and so far we can't find an apartment to rent that has everything we want.  I'm sad to say we might just have to buy a home come fall.
I know the finance geek inside you (PS it's not a bad thing) is saying "Kristina buy a home already.  It's a good investment and renting an apartment is just a waste of money."  I know I've heard it all and I've actually had the same conversation in my head with myself several times.  However renting is just so convenient.  It's carefree and there is not the added stress of all the maintenance that comes with buying a home.
Finding a balance between price and luxury
I know the two sound like an oxymoron right?  How can we find a spacious apartment with all the amenities we want at a great price.  Some of the things we don't want to compromise on are the size because we really need more space, the location because we still want to live downtown or close to downtown and the noise because we definitely want to live somewhere that's quiet.
Some of the items that we really want but are willing to compromise on are the ability to put a washer and dryer in our apartment and having two bedrooms, we would be OK with one really big bedroom in the new apartment.   Oh and did I mention we want to find all this for under $1,500 per month – all included.  What do you think, is that possible?
This move can be a turning point in our lives
We do definitely want to continue living downtown because it's convenient and it's close to both our offices.  As our list of must haves grows bigger I'm started to think maybe it's time to make a change and move to the suburbs.  I can't actually picture either of us living in the suburbs but it will have one thing on our list of must haves – it will be quiet.
Living in a house in the suburbs won't be convenient and I picture it being very boring but it will give us the peace and quiet we are so desperately craving.  It will also give us the space (aka square footage) we want as well as the in house washer and dryer.  But living in the suburbs comes with additional costs such as buying a car and buying furniture to fill a house.
Then there's the work involved with owning a house.  I don't really have a green thumb – but it's not for lack of trying.   I would love to have beautiful gardens but I wouldn't even know where to start.  So now you are in my head – it's total chaos and preoccupied with our apartment hunting.  I can use any and all advice.  Please help us.
If you could have only two new home qualities what would they be?
Photo from Flickr
Get Your FREE Ebook
DINKS (Dual Income No Kids) Finance focuses on personal finance for couples. While by no means financial experts, we strive to provide readers with new, innovative ways of thinking about finance. Sign up now to get our ebook, "Making Money Tips for Couples" FREE.