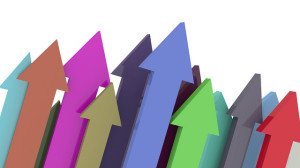 [By Patrick Foot, writer at IG. Learn more about currencies and interest rates at http://www.ig.com/uk/forex-trading]
After a dismal winter plagued by bad weather and bad economic performance, it appears that the US economy is returning to its stride – but what does that mean for ordinary savers?
The monthly non-farm payrolls report – an indication of how many Americans are employed in jobs that aren't agriculture, non-profit or in private households – revealed the lowest unemployment rate for almost six years and the creation of 288,000 new jobs in June. That's far higher than the average 212,000 predicted by economists and a good sign that the US economy is finally gaining momentum.
US stock markets are performing pretty handsomely as well, with the much publicised breaking of the $17,000 barrier by the Dow Jones last week (though it has since slipped back beneath that level) and record breaking heights reached by the S&P 500. Investors are clearly confident about the state of the US economy.
Despite the run of good figures, Janet Yellen and the Federal Reserve have remained adamant that a rise in interest rates is not on the cards. Her commitment to the current course has been welcomed by many economists, as the rise of the US economy remains fragile.
However, if the news remains this positive then the Federal Reserve will have to adapt accordingly – every time that the non-farm payrolls report returns a positive figure, the calls for a policy change grow louder. Furthermore, there are signs from the Bank of England that a UK rate rise may arrive before the end of the year. The nature of competitive economies means that a rate rise from across the pond would only add extra pressure to the US.
When that rise in interest rates does occur, it will bring about a number of changes in the way you spend and save.
Mortgages will see the most notable change, with the rock bottom rates available now increasing immediately, in line with the Federal Reserve's rise. If you're thinking of getting a mortgage in the near future, sooner might be better than later: as long as you're going for a fixed rate. If you're already paying off an adjustable rate mortgage, it's best to consider the higher cost when budgeting for the long term.
On the plus side, interest rates on your savings will also increase in line with the federal rate, so savers should be in for a windfall.
There may also be good news if you're planning a trip abroad in the near future. The release of non-farm payrolls last week caused a jump in the worth of the US dollar, a sign that the economy is returning to form restored faith in the currency. If interest rates are raised, that movement would become more pronounced as new investment pours in and drives up demand.
The US government is wary of that happening, as a dollar that is too strong is seen as a serious limitation on trade. But for anyone planning a trip abroad, it means cheaper meals, hotels, drinks and more. Be wary, though, if the European Union or UK beat the US start to raise their rates first, their currencies will grow against the dollar.
So, interesting times are ahead as the period of extra caution after the recession draws to a close. That's definitely a good thing – but something to watch out for if you're saving, borrowing or spending heavily.
Spread bets and CFDs are leveraged products. Spread betting and CFD trading may not be suitable for everyone and can result in losses that exceed your deposits, so please ensure that you fully understand the risks involved.
——–
This information has been prepared by IG, a trading name of IG Markets Limited. The material on this page does not contain a record of our trading prices, or an offer of, or solicitation for, a transaction in any financial instrument. IG accepts no responsibility for any use that may be made of these comments and for any consequences that result. No representation or warranty is given as to the accuracy or completeness of this information. Consequently any person acting on it does so entirely at their own risk. Any research provided does not have regard to the specific investment objectives, financial situation and needs of any specific person who may receive it. It has not been prepared in accordance with legal requirements designed to promote the independence of investment research and as such is considered to be a marketing communication. Although we are not specifically constrained from dealing ahead of our recommendations we do not seek to take advantage of them before they are provided to our clients.
Photo courtesy of  FutUndBeidl
Get Your FREE Ebook
DINKS (Dual Income No Kids) Finance focuses on personal finance for couples. While by no means financial experts, we strive to provide readers with new, innovative ways of thinking about finance. Sign up now to get our ebook, "Making Money Tips for Couples" FREE.