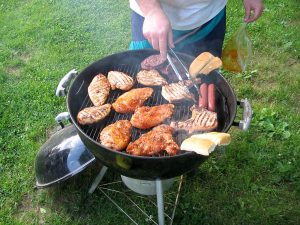 Good morning Dinks and happy last Friday in May. I hope you all had a great Memorial Day and now we can officially start enjoying our summer.  Some people think July 4th kicks off the summer but I think it's Memorial Day.  Just think about it for a second.
Memorial Day is the first time we have a family barbeque and I think that kicks off the summer season.  Spending my weekends outside, firing up the barbeque and enjoying ice cold iced tea definitely means that summer is here.  Oh and it's the first time all season that we eat fresh corn on the cob. I just love everything about Memorial Day weekend.
Enjoy these posts from our friends:
Wise Bread – 21 Decisions You'll Never Regret Making
Financial Samurai – How Much Is The Average Credit Card Debt Per Household?
Money Talks News – When was your last money makeover?
Money Ning – When Is It Worth Buying New Instead of Used?
Sprout Wealth – How to Turn Your Business Idea Into Reality
Young Adult Money – 5 Things Young Professionals Should be Doing (But Probably Aren't)
We also wanted to give a shout out to BadCredit.org for listing DINKs as one of their Top 5 couples Finance Blogs.
Photo from Flickr
Get Your FREE Ebook
DINKS (Dual Income No Kids) Finance focuses on personal finance for couples. While by no means financial experts, we strive to provide readers with new, innovative ways of thinking about finance. Sign up now to get our ebook, "Making Money Tips for Couples" FREE.