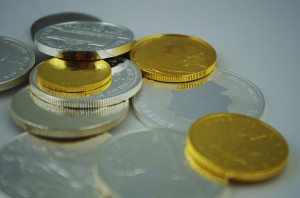 (The following is a guest contribution from GoldPrice.com)
Fiat currency, since its first use in China roughly a millennium ago, has been inherently unreliable. Since fiat money has no intrinsic value or practical use, its value has to be specified or declared by a third party; namely, a country's governing authorities.
Thus currencies like the dollar, yen and euro are unstable because of being vulnerable to the fiscal and monetary policies of the government that issues them.
Their value is also prone to fluctuate as a result of inflation or deflation, based on the broader health of a country's economy. So in short, wealth that is established in the form of fiat currency can evaporate without ever being spent or lost.
This is where gold can provide a certain amount of protection and financial security.
The Difference in Gold
The value of gold is found in a number of other factors that prevent it from being considered a fiat currency. First, it can't be printed. The supply is therefore limited, protecting it from inflation and changes in an economy's money supply.
This gives it intrinsic monetary value that isn't easily manipulated by third parties or outside economic influences.
Secondly gold can have cultural and numismatic value, which are factors that generally can't be applied to fiat currencies.
Finally, gold is also used in a number of electronic and medical devices, building materials and a number of other industries, giving it the added benefit of having practical use in its most basic form.
Wealth Insurance
Because of these attributes, gold has long been considered a form of insurance against inflation and other financial disasters for wealth that is primarily (or entirely) made up of fiat currency. Thus people will buy gold at a certain spot price, keeping it either in their personal possession or in a banking institution as a means of converting their wealth from a volatile fiat currency to a reliable commodity.
What makes gold even more beneficial is that its market value tends to increase as fiat currencies decrease.
For example, when the value of the dollar begins to drop and financial institutions of the United States begin to weaken, speculation drives the price of gold up. This means that if you buy gold as insurance for your money, its value is likely to be much higher during most scenarios where you would have to use it.
The Ideal Safety Net
This makes gold one of the best ways to provide financial security and an ideal safety net for those who have most of their assets in the form of a volatile and unreliable currency.
As governments and their currencies ride the roller coaster of changing economic fortunes, gold, as all precious metals, will retain its own intrinsic value. It will always be the one reliable commodity in an ever-evolving economic landscape.
– GoldPrice.com is the #1 resource for gold market pricing. –
Photo from Flickr
Get Your FREE Ebook
DINKS (Dual Income No Kids) Finance focuses on personal finance for couples. While by no means financial experts, we strive to provide readers with new, innovative ways of thinking about finance. Sign up now to get our ebook, "Making Money Tips for Couples" FREE.