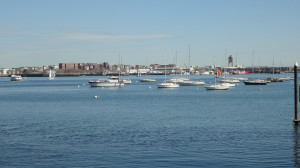 Good morning Dinks and Happy Friday.  Well it's the middle of April and it's still not warm outside.  Is anyone else getting really restless as you wait for the warm weather to arrive?  It seems like spring is taking forever to come this year.
As you read this my mother and two of my friends are boarding a plane (separately) to head to warmer climates.  Their last minute warm  weather getaways got me thinking…are more people taking their vacations earlier this year to get a break from the cold?
Enjoy these posts from our friends:
Barbara Friedberg – Tax Time Help: 10 Money Saving Tax Resources
Miss Thrifty – It's not all about eBay: Other popular sites for selling second-hand items
Financial Mentor – Why "Follow Your Passion" Is Bad Advice
SaveUp – An Interview with Brock from Clever Dude
Broke Millennial – 3 Funny Money Lessons from TV's Greatest Minds
The Frugal Farmer – Dealing With Debt Payoff Dragons
Photo by tahnyakristina
Get Your FREE Ebook
DINKS (Dual Income No Kids) Finance focuses on personal finance for couples. While by no means financial experts, we strive to provide readers with new, innovative ways of thinking about finance. Sign up now to get our ebook, "Making Money Tips for Couples" FREE.