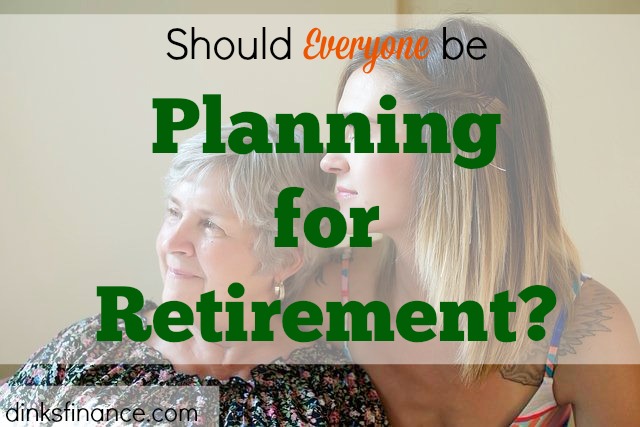 Good morning Dinks.  I was chatting with one of my friends yesterday and she was very upset.  Her parents are getting ready to retire and they are going to sell her childhood home.  Unfortunately her parents didn't save a lot during their working years so they are going to downsize and use the profits from the sale of the home to partly fund their retirement.
My friend is very upset that her parents are selling her childhood home.  I am not sure she wasn't expecting them to keep it forever, I just don't think she was expecting them to sell it so soon.  Or maybe she was expecting them to keep the home forever.  Either way her extreme reaction brings up a lot of questions, both personal and financial.
Retirement should be in everyone's goals.
As our parents get older they are getting ready to retire.  But can all parents afford it?  I know that families with kids have different financial priorities than a childless couple, but doesn't everyone want to retire someday?  Throughout our lives we can have several financial goals.  For couples with kids this may include helping them through college and paying for their wedding.  But does having kids mean you have to completely neglect your own personal financial goals?
I would say no, but maybe that's because I am completely selfish.  I don't have kids because I like to do what I want when I want.  I don't want to change my daily routine or personal habits for kids, that's why Nick and I don't even have a dog.  We live for us and that's OK.
So my question is this…where does retirement fit in to a family budget?  My Dad had a really great pension with his former employer that allowed him to retire at 55.  He always says if he didn't have forced savings (and matched savings) with his employer he never would have been able to retire because with a house and two kids there was no extra money for personal savings.  This is just another benefit of being a childless couple…we can save for our own personal goals instead of saving for someone else's goals.
When should kids let go of their parent's retirement lifestyle?
The second question that comes up with my friend's parents selling their home is her emotional attachment.  Maybe it's because I am from a family of divorce and neither one of my parents live in my childhood home, but I just don't see the emotional attachment.
This is what her parents have to do to retire and she should be supportive.  If they saved for retirement maybe she wouldn't have been able to go to college.   feel if my friend really doesn't want to let go of her childhood home then she should make an offer to buy the home.  She expected to spend many more holidays sitting around her parents dining room table, but come this Thanksgiving she will have to start new traditions.
I admit that neither one of my parent's houses feel like home to me.  But I don't think that has anything to do with the actual dwelling.  It has to do with the fact my family broke apart and my parents found happiness with other people.  Well my Dad's happiness is to be determined, but you get the point.
Photo by tahnyakristina  
Get Your FREE Ebook
DINKS (Dual Income No Kids) Finance focuses on personal finance for couples. While by no means financial experts, we strive to provide readers with new, innovative ways of thinking about finance. Sign up now to get our ebook, "Making Money Tips for Couples" FREE.