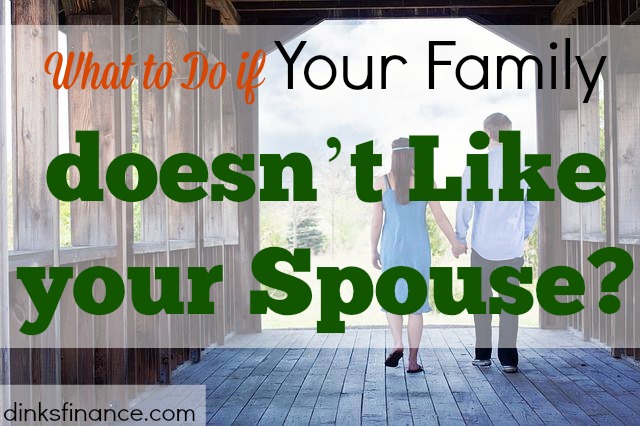 Good morning Dinks.  I know we love to talk about our spouses here and I am lucky that I have a really great boyfriend.  That's not to say we don't have our moments of friction, but overall I feel blessed.  My boyfriend Nick takes care of me when I'm sick, he makes me laugh when I'm sad and he always tells me the truth even if it's brutal.  This is one of his less lovable qualities but I appreciate his honesty.




Not everyone's spouse can be perfect
I keep my relationship completely separate from my family.  I do this for a couple of reasons.  The first reason is because it's really none of their business what happens in my relationship.  The second reason is because in my family everything is a big deal.  By the time a piece of information makes its way through all the members of my family (and it always does) the story is never the same.  I really don't have time for all that drama.
Unfortunely some of my family members aren't as lucky in the spouse department as I am.  As you know I don't like my Dad's spouse.  I wish she would just go away, but that's not going to happen anytime soon because my Dad is afraid to be alone.  My Dad admits his wife is not a great person but in his words he doesn't want to start over and be single at 60.
You don't have to like everyone's spouse, you just have to be polite
Not liking someone's spouse brings stress on a family.  My dad is forced to keep his love life and his family life very separate because none of our family members can stand to be around his wife.  To say family events aren't fun when she is there would be an understatement so we ask that she stays away.
It's not expected that everyone will like me and my spouse, just as it's probably not expected that I will like everyone's spouse.  But I'm not married to them so it really doesn't matter.  All I have to do is show up, smile and make the event as pleasant as possible.
This is how I try to keep the peace when I don't like someone's spouse.
– Don't try to make them see it.  A person in love will never the bad qualities in their spouse; just like parents usually don't see the downfalls in their kids.  Pointing out someone's less desirable qualities only causes tension in the family. You have to let people realize their spouse's flaws on their own; otherwise you're the bad guy.  Even though my Dad's wife does really awful things right in front of him he just doesn't see it.
– Don't force a conversation.  If you happen to be in the same room as someone you don't like just smile and be polite. Of course it's awkward, but it's better than fighting with you loved ones. My Dad and I fought for years over his new wife and we still do.  It's unfortunate but that will probably never change.  So to keep the peace I smile and move on when I see his wife.
– You don't have to spend money on them.  My money is precious and spending it on someone I don't like is a huge waste of money.  I can smile and be polite but I don't have to send birthday calls and Christmas gifts.
Photo by tahnyakristina
Get Your FREE Ebook
DINKS (Dual Income No Kids) Finance focuses on personal finance for couples. While by no means financial experts, we strive to provide readers with new, innovative ways of thinking about finance. Sign up now to get our ebook, "Making Money Tips for Couples" FREE.