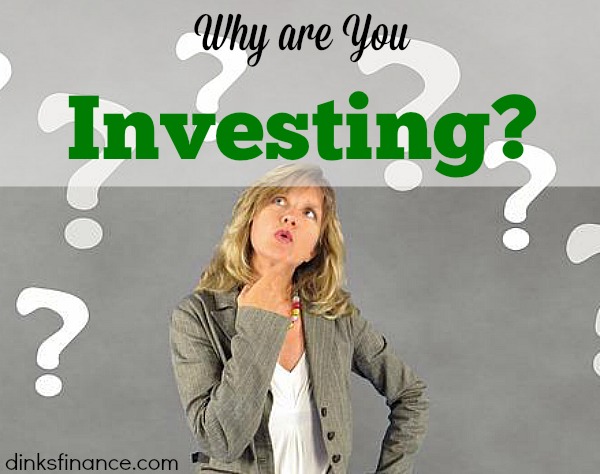 Good morning Dinks. We are now well into the fourth quarter of the fiscal year and let me ask you – how is your investment portfolio performing?  Maybe your portfolio is outperforming your expectations or maybe it's falling a little bit short of how you hoped it would perform.
Do you have a pre determined amount of money that you expect to make from your investment portfolio each year?  I know some people who are balanced investors hope to earn 6-8% each year, but of course those are just high hopes.  We all know that in the investment world nothing is guaranteed.
Before you make your next investment – ask yourself these 5 questions:
1. What is the purpose of the investment? When you decide to buy an investment, it can't just be because you heard it's a good investment option – it has to have a purpose.  Maybe the purpose of buying precious metals is to diversity your portfolio, maybe you want to buy an emerging markets mutual fund to add some foreign equity into your portfolio and maybe you want to buy a long term bond because you need more security in your portfolio.  Before you buy an investment think about the purpose it serves.
2. Where will I put it? If you have several different investment accounts such as a short term portfolio and a long term portfolio for retirement you have to decide where your new investment choice fits.  Once you know the purpose of your new investment you can decide where to invest it.  Add investments to your portfolio is all about finding a balance, does the new investment compliment one portfolio more than the other?
3. Why am I buying this investment?  Maybe you want to invest in a stock because your neighbor told you that it was a good idea, but that really what's best for you and your investment portfolio? Maybe, but maybe not.  Before you put more money into the stock market, ask yourself – why am I doing this? Do I need another new investment in the mix or should I just put money into my existing investments?
4. How long do I want to hold it?  Depending on the purpose of your new investment and which account you want to put it in you can decide how long you want to hold the investment.  Very often people buy investments with no clear strategy and just sell it once they make a profit or they buy investments that are suitable for the short term and hold them for the long term because they have no real strategy.  The truth is that you should have the investment strategy first and then buy the right investments to complete the puzzle, not the other way around.
5. Who will buy the investment for you?  You may want to buy the investment yourself, if it's available.  But if you want an investment that is not open to the public you will have to decide whether to use a discount broker or a full service broker.  Of course the benefit of using a full service broker is the expert advice that comes along with it, and the benefit of using a discount broker is the lower fees.  Before you buy your investment you need to decide which is right for you.
Photo by alexanderdrachmann
Get Your FREE Ebook
DINKS (Dual Income No Kids) Finance focuses on personal finance for couples. While by no means financial experts, we strive to provide readers with new, innovative ways of thinking about finance. Sign up now to get our ebook, "Making Money Tips for Couples" FREE.