Good morning Dinks. Today we have some very exciting news.  Today we are giving away 2 amazing books for dummies.  No we aren't calling you dumb, but we do want to help you invest better and grow your business or your blog through social media marketing.
Many bloggers want to grow their blogs to be the best that they can be and that means reaching new audiences.  But how can you do that? The answer is simple, with social media.  Social Media Marketing is a cost efficient way for blogs and online businesses to reach a wider variety of clients at no extra cost.
Start up businesses and blogs most likely don't have big budget for advertising so they choose to take to the web.  Online marketing through social media is a great way to spread the word about your business, it doesn't cost anything and it can actually be a lot of fun.  Besides, who doesn't want to grow their business?
Social Media Marketing For Dummies from Wiley
Earlier this year I went to Las Vegas for the New Media Expo (formerly Blog World) and I met two great women from Wiley Publishing House.  Of course as an author who is currently searching for a home for my new book I was happy to see a publisher at the New Media Expo in Las Vegas.
Before we continue I should also mention that I was able to get a ticket to the two day media event thanks to our good friend Phil at PT Money. You may have heard his name around the web because he is the founder of The Financial Blogger Conference (FinCon), wink wink.
The good people at Wiley are just as passionate about growing a business and making money as we are.  Wiley is the publishing house responsible for the "dummies" brand of books, they also published Darren Rowse and Chris Garnett's Problogger book.
Why you need to enter this Wiley giveaway
Wiley is passionate about blogging and about helping others. This is why they are hosting a great giveaway for 2 of their "dummies" brand books.
Use the Rafflecopter link below to enter to win your very own copy of Social Media Marketing For Dummies and Investing in Your 20s & 30s For Dummies.
I definitely don't want to spoil the books for you (because even if you don't win you should pick up a copy of these helpful books) but I do want to give you a sneak preview.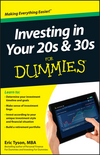 With Investing in Your 20s & 30s For Dummies you will learn to:
– Determine your investment timeline and goals
– Make sense of investment lingo
– Invest according to your unique investment style and financial situation
– Build a retirement portfolio
With Social Media Marketing For Dummies you will learn about:

– The Social Media Mix
– Cybersocial Tools
– Measuring Results
– Building on Success
– Blogs, Podcasts and Vlogs
– Social sites such as Twitter, Facebook, Google+, Pinterest
This giveaway is open to all U.S. and Canadian residents.
Good Luck to everyone who enters.  The winner will be announced as soon as the giveaway ends.
Photo by Wiley