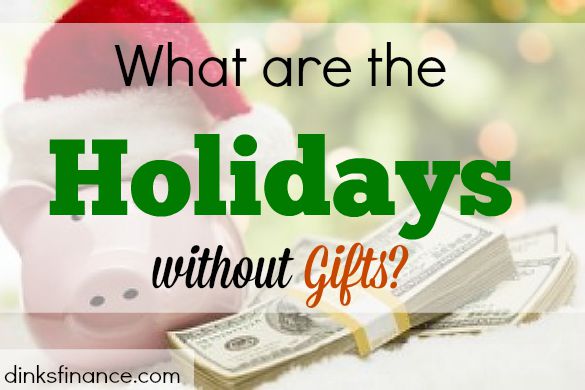 Good Morning Dinks.  Let me ask you a serious question…how are you spending the holidays? Every family has their own traditions; some of us spend the holidays eating dinner with family and friends, some of us exchange gifts in front of a warm fireplace and some others bare the cold weather and tour their neighbourhood singing Christmas carols. What are your holiday traditions?
Something Different This Holiday Season
For many of us we spend the holidays with family and good friends as we exchange gifts.  The pressure to find the perfect gift for everyone on your list can be both a stressful and a financial burden.  This year my mother's family decided not to exchange gifts because I have an aunt who is going through a personal bankruptcy.
There is never a good time to be going through financial struggles, but it's especially hard during the holidays.  My aunt is in the process of losing her personal assets as well as her business due to some bad investments and some not so great business decisions.
My mother's family decided not to add to her financial stress and this year we decided to have a family dinner aka a family get together in the afternoon to enjoy some good food, lots of eggnog and great music – there is always dancing at my family gatherings.  No gifts were exchanged and everyone still had a great time.
Christmas Without Gifts
I personally appreciated the fact that we were not exchanging gifts during the holidays this year because it saves a lot of time and a lot of stress.  I love the way a Christmas tree looks when it is fully decorated with tons of wrapped gifts underneath it but honestly what does that say about me? Does it mean that I am superficial or does it just mean that I love me a cute Christmas decoration?
I live 5 hours away from my closest family member and therefore I don't get to see my family very often during the year. I do enjoy seeing my family members throughout the year but seeing all 25 members of my family at the same time in the same place can be a little bit overwhelming.  Not exchanging gifts cuts down the family gathering time from 8 hours to 4 hours and it also gives out-of-towners the option to drive home instead of staying overnight. I think that this was appreciated by all family members who had to travel.
Save Money as a Family
If you are looking to start a new Christmas tradition and not exchange gifts this year try to think about other fun activities that don't involve spending hundreds of dollars on gifts for everyone on your list.
Host a secret Santa gift exchange with a maximum dollar limit.  This means that everyone buys one gift with a $40 value and everyone picks a gift from under the tree. This eliminates the need to buy a gift for everyone on your list.
Make a donation to charity.  If you are hosting a Christmas dinner you can ask all of your guests to bring a non perishable food item or an unwrapped toy and then you can donate all of the gifts to a family who is less fortunate.
Go out to a restaurant. If the thought of having 25 people in your house and then having to clean up after them is not appealing skip the family dinner and go out to a restaurant.  It saves time and money but you still get to enjoy quality time with your family.
Photo by lizmarie
Get Your FREE Ebook
DINKS (Dual Income No Kids) Finance focuses on personal finance for couples. While by no means financial experts, we strive to provide readers with new, innovative ways of thinking about finance. Sign up now to get our ebook, "Making Money Tips for Couples" FREE.