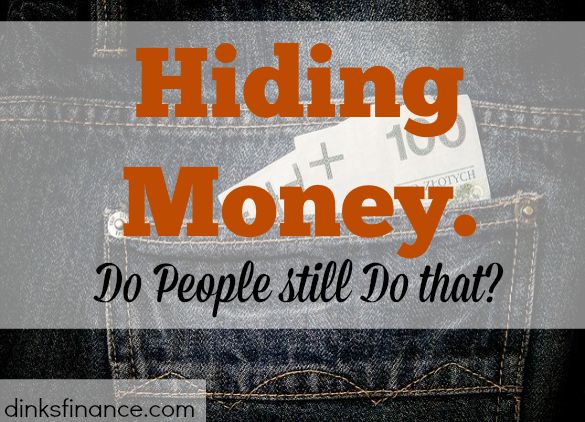 Good Morning Dinks. I can't even believe that I am going to write about this today but yet here we are.  I met an elderly client at my bank branch last week and she needed to go to her safety deposit box to get her weekly allowance. I couldn't believe it; I was shocked to know that people still hide cash money.
When I asked the elderly client why she kept her money in her safety deposit box she replied "because it's better than keeping it under my mattress." I couldn't argue because I guess that keeping your cash money in a safety deposit box at the bank is better than hiding it under your mattress at home, but it's still not a profitable financial strategy.
I keep a little bit of cash at home just in case I need money for something and I can't get to an ATM, but I hardly feel that my $100 of cash at home in my secret hiding place qualifies as hiding money.
Hiding Money is Not Profitable
There are so many reasons why people should not keep cash money in a safety deposit box or under their bed mattress at home that I can't even think of a reason why someone would want to keep cash money hidden in their house.  When I asked the elderly client why she kept her money in her safety deposit box instead of in a bank account she told me that because it is safe and because it will always there.  Once again this is true, but at the same time it is not earning any interest.  This client is actually losing money because the value of her money is not the same today as it was many years ago yet she continues to have the exact same amount of money.
This client didn't care about earning interest, she lived through the great depression of the dirty thirties and she just wanted to make sure that her money would always be there. Once again I couldn't argue, I mean seriously who can argue with the great depression? However hiding cash money at your home goes against everything that I believe in as a banker and it goes against everything that I have learned as a financial professional. But at the end of the day I am never going to change the mind of an 80-something-year-old lady.
As I was getting ready to write this post I came across this article from the Huffington Post which discusses the best secret hiding places for money. Once again I was in shock; maybe hiding cash money is more common than I think.
Where do you hide your money?
– In your lip balm container.  I think my father used to do this when we went on a family vacation. He had a little container that was about the size of a lip balm that he would hang around his neck so his money wouldn't get wet at the pool bar.
– In your telephone book. This is a good idea as long as you can remember the letter under which you hid the money. I probably wouldn't remember.
– With your prescription pills. I don't know about this one.  Prescription pill bottles are clear and therefore if a thief went through your medicine cabinet he would see your money.
– In your bag of pet food. I love this one. I mean seriously if you are being robbed no one is going to take the time to search through a bag of dog food in the hopes that there may be money hidden inside.
– With your cleaning supplies. I wouldn't do this. I don't even know how I would hide money in my cleaning supplies.
– Under your candle jar. This just seems messy and like a really bad idea.
Or you can do what J. Money does and hide them in one of these cool hidden safes.
Photo by rileyroxx
Get Your FREE Ebook
DINKS (Dual Income No Kids) Finance focuses on personal finance for couples. While by no means financial experts, we strive to provide readers with new, innovative ways of thinking about finance. Sign up now to get our ebook, "Making Money Tips for Couples" FREE.