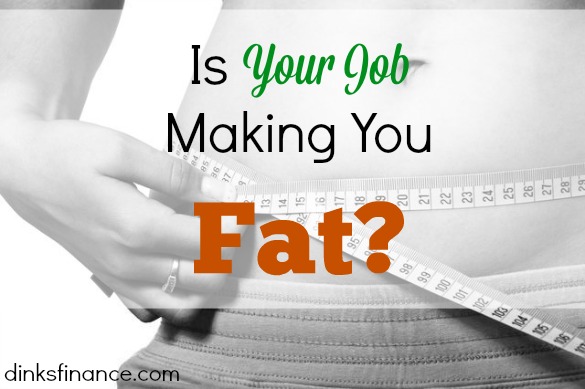 Good Morning DINKS….let me ask you a question, is your job making you fat? Yesterday as I was walking with my colleague to get a breakfast sandwich and morning iced coffee I told her that I wanted to stop spending so much money on snacks.  She told me that we could save so much money and cut back on our calories if we just stopped taking our morning and afternoon breaks.  I asked her "So what do we have to do to stop spending money on junk food?" and my colleague said "Stay home."

Are you active at work? Let's be honest, if you aren't an aerobics instructor, a Zumba teacher, or a personal trainer then the odds are that you are not very active from 9 to 5 at your job. There are several ways that our jobs can make us fat , we can consume coffee, snacks, and junk food because it is easier than bringing our breakfast or lunch to work every day. Our job can make us fat if we choose to eat out during the day in order to be social with our colleagues, and our job can make us fat if it doesn't give us the opportunity to move around and be active during the day.  Maybe this is why people choose to exercise or go to the gym on their lunch hour. Others may choose to pick up softball equipment like DeMarini bats and play in a softball league or participate in other sports after work.
MSN recently published a list of common jobs that make you fat. Is your job on the list?  They say that over 44% of all workers have gained wait on the job and 54% of those workers claim that they gained weight because they are sitting down for the majority of the day.
Many workers attribute their weight loss to the fact that they are compulsively eating due to stress at the workplace. Other employees say that they gain weight because they are constantly eating out during the workday. I am absolutely guilty of this because I don't always bring my lunch to work and I never eat breakfast at home before leaving for work in the morning.
Many employees claim that there are not enough hours in the work day to get everything done and therefore employees often skip meals.  This is another reason why people gain weight at their workplace.  Workplace celebrations such as birthdays, promotions, potluck lunches, and farewell parties are all other reasons why people gain weight at work.
Sometimes we are not even hungry but we find ourselves eating at the office anyways. I don't know about your workplace but there always seems to be food in my office. Sometimes employees bring in food and snacks for absolutely no reason at all; I can personally never say no to candy, especially Twizzlers licorice or anything chocolate.
Here is a list of common jobs that make you fat according to MSN:
– Travel Agent
– Attorney and/or Judge
– Teacher
– Protective Services such as a Police Officer or Firefighter
– Marketing and Public Relations Professional
– Information Technology (IT) Professional
Photo by super fantastic
Get Your FREE Ebook
DINKS (Dual Income No Kids) Finance focuses on personal finance for couples. While by no means financial experts, we strive to provide readers with new, innovative ways of thinking about finance. Sign up now to get our ebook, "Making Money Tips for Couples" FREE.