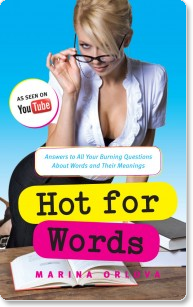 Good Morning DINKS. We recently received an email from our friends at Bankrate.com about a new partnership initiative that they recently created with Marina Orlova; naturally we couldn't resist the opportunity to share this information with you.
Bankrate is a one stop shopping website for all of your personal finance needs. They provide comprehensive and objective information on current financial products, services, and rates. They also offer various financial tools such a mortgage payment calculators, loan and amortization calculators, as well as car loan calculators.  What is the best part of Bankrate.com? All of their tools, information and resources are free.
Bankrate is collaborating with Marina Orlova from HotForWords.com on a new video series of personal finance terms to help people learn about basic financial terminology. They explain (in simple terms) why personal finance is important or at least why it should be important to everyone.
Marina Orlova is a 29 year old educated woman from Russia. She has two degrees in philology which is the study of linguistics as well as a PhD.  "Hot For Words" is a fun way to expose personal finance to people who otherwise wouldn't tune into it or care about it.  This is also a great way for people to learn more about the origin of financial terms.  Marina Orlova was named the Worlds Sexiest Geek by Wired.com and The Sexiest Philologist in the World by New Yorker Magazine. She is smart and beautiful, so why not watch and listen to what she has to say. You can find her informative videos on YouTube as well as on the Bankrate.com website.
Do you know…
The meaning of the word Salary? Salaries were originally paid in salt to Roman soldiers many years ago. Salt was a very valuable commodity and therefore it was also a very common form of payment. In the Latin language the word "Sal" meant salt, over the years it has evolved into "Salarium" which means an allowance that binds salt.  Eventually the word "Salarium" became the word "Salary" as we know it which now means a regular fixed payment for work done.
The meaning of the word Inflation? The word Inflation comes from the Latin word "Inflare" which literally means into and to blow. Eventually the word "Inflare" developed into the word "Inflationem" which meant a puffing up. By 1838 the previously used Latin origin words developed into the word "Inflation" that we use today. Inflation is caused when Governments put more money into circulation because when there is more money in circulation money loses its value. Inflation causes banks to adjust their interest rates and encourages consumers to invest their money instead of hoard their cash. When consumers invest their money it boosts the economy which boosts a countries growth as well as the value of our money.
The meaning of the word Asset? In the 11th century the Latin words "Ad" and "Satis" were combined to mean "to" and "enough". They eventually formed the French word "Assez" which literally means sufficiency, satisfaction, or compensation.  The word "Assez" was used as a legal term meaning enough legal property to cover any outstanding debts. By the 1530's this French word involved into the English word  "Astez" and by the 1580s it evolved into the word "Assets" that we commonly use today to describe any type of property that can be converted to cash money.
Check out Bankrate.com for more videos on the origins of commonly used financial terms.