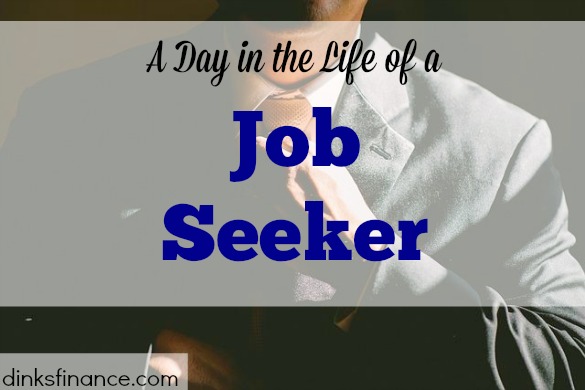 Good Morning DINKS.  It's time for the next post in our A Day in the Life series.  I hope you have enjoyed our first two posts in this new series.  If you missed them scroll to down for the links.  Our A Day in the Life series gives us insight into the lives of different people in different professions.  If you would like to share your typical work day with us please contact DINKS to have your profession featured on our A Day in the Life Series.
Today we are talking with Samantha who has been actively searching for a full time job for the past six months. Samantha is a university graduate in her late 40's with over 15 years of experience in her field.  In a normal job market her expertise and experience should be valued and sought out by employers.  However, in a job market where companies are looking to cut costs at all costs her job search has not been easy, or successful.
Samantha was let go from her job due to downsizing when her locally owned firm was bought out by an American company (Damn Yankees!).  She was not offered an alternative position or relocation.  However, Samantha was provided with the total value of her accumulated pension in a lump sum payment as well as the equivalent of three months' severance pay.
In a normal economy and job market we should be able to find a new job (at the same level and pay) within three months; this is why the "norm" for an emergency savings fund is the equivalent of 3 months' salary.  Unfortunately for Samantha and many other people who are currently unemployed, we are not presently in a normal job market with normal economic conditions.
This is a Day in the Life of a Job Seeker
On an average day Samantha wakes up at around 6:30 am and she searches the internet and applies for jobs until around 12 noon.  Samantha uses a variety of job posting websites which include Monster and Workopolis.  She also signed up for Career Alerts with companies that she would like to work for, this will alert Samantha when a job is posted that matches her experience and skills. During her unemployment Samantha has tried to keep the same daily schedule as she did when she was employed.  She still wakes up to her alarm clock every morning, she eats lunch at 12 noon, she eats dinner at 6 pm, and she goes to bed around 10 pm.
Samantha says that keeping a routine with daily time goals helps her feel like she has a purpose each day.  It makes her feel less like she is unemployed and more like she is still achieving something every day.  Keeping a daily schedule will also help Samantha with the transition back into the workforce.
Samantha applies for an average of two jobs per week; she creates a personalized resume and cover letter for each job that she applies for.    There are currently not a lot of jobs available in the market that are in Samantha's niche and that require her level of skills and experience.  Samantha spends her days volunteering for several charities and sitting on various business boards of directors.  She definitely keeps busy, but unfortunately volunteering her time does not bring in an income.
Samantha says that for every 25 jobs she applies to she may get only 1 call back for an interview. During the interview process employers usually have 3 and 5 short listed candidates. Sandra has started to broaden her job search.  She is now applying for jobs that offer a lower than desired salary because less salary is still better than no salary at all. However, she often hears that she is overqualified for the position.  During tough economic times it is hard for a company to justify overspending on an overqualified candidate.
Samantha feels that her age plays a big role for potential employers when she applies for jobs.  She isn't old enough to retire, but she is too old to be hired for an entry level position.  It is more cost efficient for a company to hire a young recent graduate than it is to provide a higher salary and more benefits to an experienced candidate in their late 40's.
Samantha decided to collect Unemployment Insurance after 3 months of being unemployed. It is not something that she wanted to do, but it was a necessity to help pay her monthly bills.  Unemployment Insurance offers 55% of our previous salary, but it is capped at a maximum payout of about $450 a week.
Luckily Samantha is a DINK and she can rely on her husband's steady income to help support the family household.  Samantha's husband is very supportive and encouraging in her job search.  He is the optimist when she is the pessimist.  They continue to manage their joint finances just as they did prior to Samantha's unemployment.  All the income is deposited into one bank account and all expenses, even Samantha's personal spending, is withdrawn individually.
Here are the Other Posts in our A Day in the Life Series:
– A Day in the Life of an Intern
– A Day in the Life of a Banker
Get Your FREE Ebook
DINKS (Dual Income No Kids) Finance focuses on personal finance for couples. While by no means financial experts, we strive to provide readers with new, innovative ways of thinking about finance. Sign up now to get our ebook, "Making Money Tips for Couples" FREE.