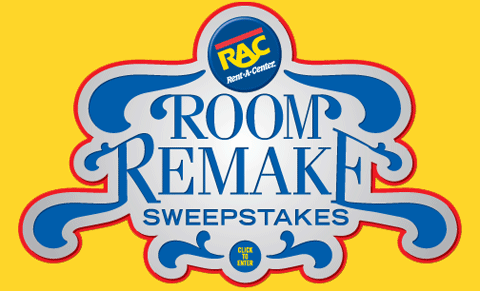 Hi guys!
It's been a while since we did our last giveaway, and thought this was a great one to get back into the habit again :)  We're giving you TWO chances to win something today!
Giveaway #1:  Total Room Makeover from Rent-A-Center!
Making over a room or a space in your home can be tedious, costly and demanding. However, if you want a change there's no way to get around those annoyances… until now. During the next week, Rent-A-Center (RAC) is hosting a Room Remake Sweepstakes, where one lucky winner will win a total makeover of a space in their home with new brand-name furniture, big screen TVs… the works, all completely free!
RAC makes life manageable for hardworking people that need an affordable alternative when credit isn't available or doesn't make sense. RAC offers an affordable way to get what you need when you need it, without the risks and long-term obligation of a credit transaction.
TO ENTER: All you have to do to enter is "like" Rent-A-Center's Facebook Page, and then let them know WHY you need a room remade – that's it!  They will pick a winner via their Facebook Page by this Sunday, Nov 14th.
Giveaway #2:  $50 Visa Gift Card
Separate from the above giveaway, Rent-A-Center will also be giving one of YOU guys your very own $50 Visa Gift Card! (And we actually get one too – woohoo!  One of the perks of running a finance blog :)) All you have to do to enter this one is answer the following (same) question in the comments below:
Which room of your house would you want re-made, and WHY?
Leave your answer below by this Sunday, Nov 14th, and you'll be entered to win.  We'll use Random.org to pick it so everyone gets a shot. You must be a permanent resident of the 50 United States or D.C., and 18 or older to win.  Good luck!
————–
GIVEAWAY OVER.  Lucky winner: Elizabeth I