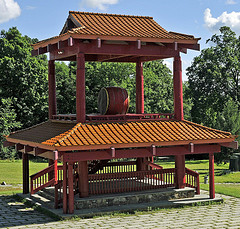 Happy Friday DINKS!  As we get ready for the weekend we will discuss how we spend our (hard) earned money…we are discussing our material possessions. This leads to a discussion about a blossoming economy that many of us may, or may not, be familiar with.
For many years China has been a manufacturing and production powerhouse.  If you look at almost anything in your home from your Ralph Lauren Polo T Shirt to your Pier 1 Candle Holders the sticker probably says "Made in China".  Although many other countries such as India and Honduras and are up and coming in the clothing production industry, China is still leading the manufacturing and production race.
Do me a favour…Go into your closet and look at the tags on your clothes to see where they were manufactured. I looked through my boyfriend Nick's closet and found that his NBA Adidas T Shirts were made in Honduras, and his official NFL and NBA Reebok jerseys were all made in Korea. PUMA and Rocawear are made in Mexico, and Sean John is made in Macau China, which is Hong Kong's counterpart. Chaps by Ralph Lauren is made in India.
Now, do me another favour, go and look around your house.  Verify the back and bottoms of your home decor, your electronics, and your small appliances. You will notice that almost everything will be stamped "Made in China". My stand alone Hawaiian Breeze fan is made in China, and so is my SONY stereo/cd player.  Our IKEA light stands are made in China as well as our Beaumark bagel toaster. Even our Olympia Call Display Ball is made in China.
What does this tell us? It tells me that although they may be willing to share a part of clothing manufacturing with other countries, China is dominating the electronic production market.  Why is this? It could be because labour is cheap in China due to the lack the of labour laws and the reign of Communism.  It could also be due to the fact that China is extremely overpopulated and therefore it is easy to find mass workers.  Regardless, whatever the reason is it seems that everyone wants a piece of China…including American Finance Companies.
In more recent years we have seen the integration of China into the Western world with the growth of HSBC whose slogan is "The World's Local Bank," as well as the 2008 Summer Olympic Games being held in Beijing.  Although traveling to Asia is significantly more expensive than vacationing in Europe or the Caribbean, North American Businesses are taking the trip across the Pacific Ocean and trying to knock on China's doors.  The question is "Will be welcomed with open arms?"
Here is some news on the US' interest in China as well as Chinese Manufacturing. Enjoy!
And here are some other great financial reads:
————-
(Photo by Tony the Misfit)